A few days before the winter holiday, University of Houston Honors College student Vanessa Alejandro saw a New York area code on her ringing cell phone. She knew that the caller would either deliver great news or somewhat disappointing information. Nervously, Alejandro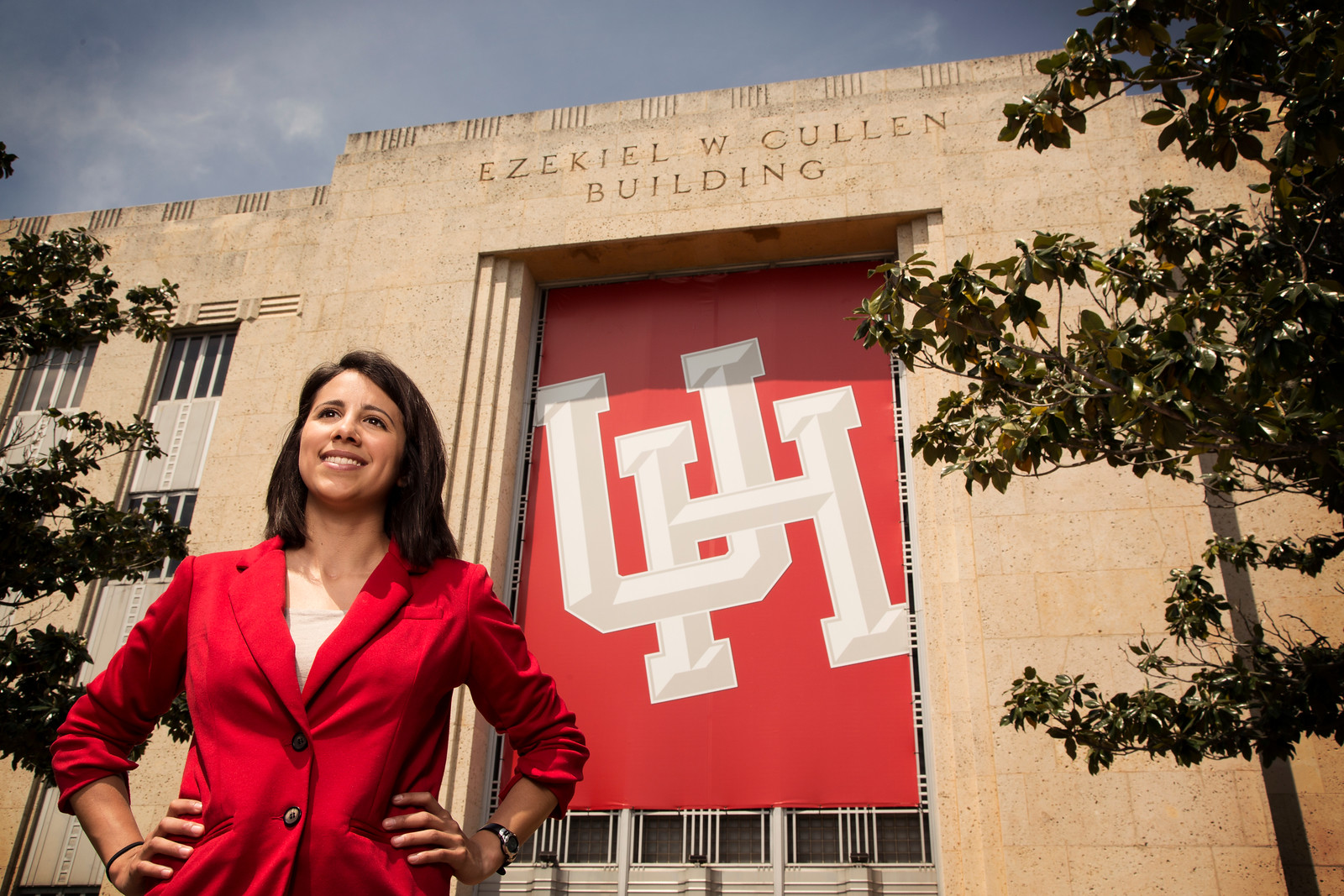 took the call and received an unexpected holiday surprise -- Glamour magazine named her as one of the country's "Top 10 College Women."
Although she received the news in December, the latest issue of the magazine just hit newsstands and features a profile and photo of Alejandro, a junior geology major.
For 58 years, Glamour has recognized students' accomplishments in the classroom and the community. As one of the magazine's honorees, Alejandro received a cash prize and attended an awards ceremony sponsored by L'Oreal Paris at the Museum of Arts and Design in New York City.
"When I got the call, I couldn't believe I had been selected for this honor," Alejandro said. "I ran downstairs and told my parents. Since the magazine has come out, they've gone to different stores and bought several copies."
Alejandro was selected as one of the magazine's "Top 10 College Women" based on her academic prowess, research initiatives and community-based projects.
One of her projects is Warriors of the Wild, which takes Alejandro and collaborators to schools to deliver fun science-based performances. At the end of each performance, Alejandro and her partners introduce various species of live wildlife to audience members. Warriors of the Wild performances incorporate lessons on biodiversity, adaptation, conservation, natural selection and ecology.
Additionally, Alejandro is working to develop an educational playground with fellow UH students Juan Trujillo and Jordan Vasquez and Honors College associate dean Andrew Hamilton. Titled the Exploratorium, the science-based fun zone would be located on campus and available for Houston-area schools.
"We're very excited about this project," she said. "It has the potential to do more than teach science. It can address social issues and other topics. Just imagine a regular playground, but it would include interactive learning activities."
The Exploratorium is still in the developmental stages. During the summer months, Alejandro and colleagues will plan a campaign to raise funds to officially launch this project.
As a researcher, Alejandro has been studying Antarctic and marine geology with guidance from Julia Wellner, an assistant professor of earth and atmospheric sciences in the College of Natural Sciences and Mathematics. Recently, she examined the climate in the Antarctic Peninsula. For her Honors thesis, Alejandro is focusing a project on grain shape analysis.
A Pearland, Texas native, Alejandro has long been fascinated by science. In fact, the roots of the Warriors of the Wild initiative began during her high school years and fully evolved during her freshman year at UH.
In 2012, Alejandro suffered a personal setback when she was diagnosed with thyroid cancer. She didn't let the illness dampen her determination to share her passion for science with students in the community. Now that she's fully recovered, she's on focused teaching and helping others in Houston and beyond. In doing so, she hopes to emulate one of her heroes.
"My dream is to help villages, towns, even countries develop in an environmentally sustainable way," she said. "I want to advocate for sustainability as a scientist just like Jane Goodall has advocated for animal rights through her primate research. I want to be the Jane Goodall of sustainability research."
To read about Alejandro and the other "Top 10 College Women," visit the Glamour website.
The Honors College at UH is a hub of excellence that serves the needs of gifted undergraduates in more than 100 fields of study and reflects the rich diversity of the University of Houston in its courses, faculty and students. For over 50 years, the Honors College has offered students the best of both worlds: the advantages of a small college together with the comprehensive resources and rich diversity of a large university. For more information about the Honors College, visit http://TheHonorsCollege.com.
---