Where is the best place for a dedicated teacher to recharge his/her batteries during the summer months? Ask the participants of the University of Houston's Common Ground Teachers Institute, and they'll answer, "The classroom."
They're referring to any of the classrooms in UH's Honors College, which hosts the institute, a two-week professional development program delivering seminars, readings by professional authors and workshops to Houston teachers. With guidance from noted professors, Common Ground offers teachers new ideas to take back to their students.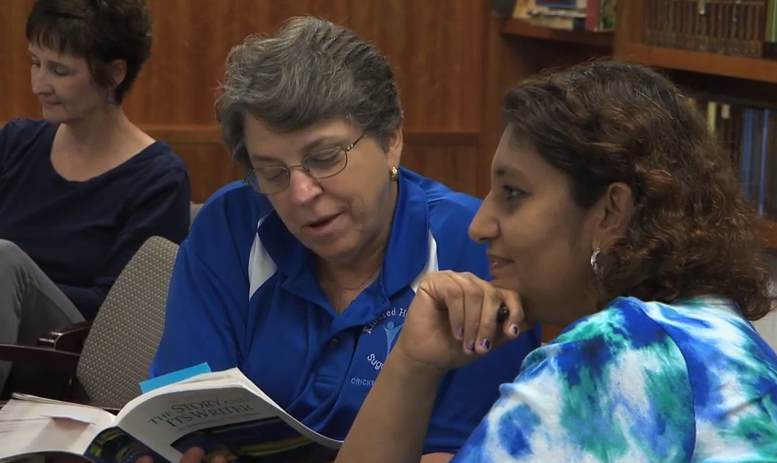 "It's a great way for university faculty and teachers in the schools to get together and have intellectual conversations about matters important to them, their students and society," said Honors College Dean William Monroe.
Monroe and other institute faculty lead discussions and projects focused on classic and contemporary texts. Also, noted Houston authors visit the institute to deliver readings.
Each year, teachers apply to this popular program. Selected educators attend Common Ground at no cost and receive a book stipend thanks to underwriting from the McGovern Foundation.  To learn more about the Common Ground Teachers Institute, visit the program's website.
"I can't wait to start implementing the things I've learned, whether it's a piece of literature or a thematic connection," said Houston teacher Laura Thornton.
This year marked the 25th anniversary of Common Ground. According to Monroe, the institute's success stems from the passion of its participants and their commitment to consistently deliver new and invigorating ideas to their respective classrooms.
"Student success doesn't depend on formulas. It depends on the development of a community led by a dedicated teacher," he said. "This is our 25th year of Common Ground. We keep doing the institute because good teachers deserve to have intellectual excitement in their lives."
---