Take a stroll through the University of Houston campus these days and you'll find lush trees, fountains and benches along your walk. The Cullen Family Plaza, located in front of the Ezekiel Cullen Building, is one of the University's most popular places to gather, lounge on the lawn or sit and enjoy its expansive fountains and sculpture waterfall. But the casual atmosphere found today is starkly different from the institution's original master plan. Photos and documents inside the University of Houston M.D. Anderson Library archives tells the story of how and why the campus has physically transformed. 
"The buildings collection is used a lot. It has historical views of campus, it can also have aerial views and plans of what we thought the campus might look like at one time," said Mary Manning, an archivist in the UH Libraries.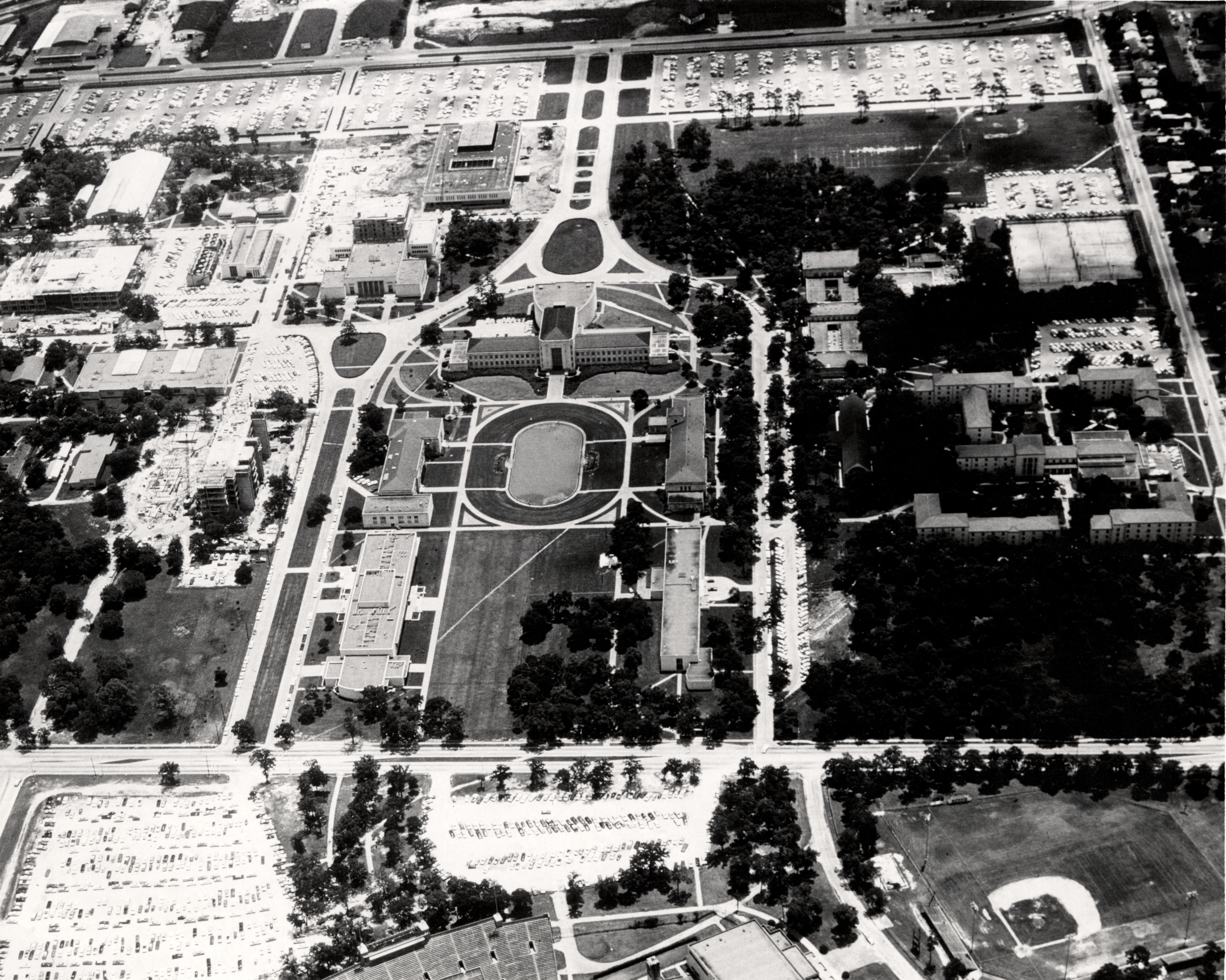 According to Stephen James, curator of architectural collections, UH's original master plan of the 1930s was axial and formal.
"They used a style that was popular at the time similar to the kind of thing you see in Washington, D.C. That was the type of effect they were trying to create on what, at that time, was a small, new college campus. They wanted to create the feeling of important institutions," said James.
As societal attitudes toward authority shifted in the 1960s, so did the planning principles of the University's master plan, which underwent a major change. James said during that time architects started to make institutions more approachable and less intimidating.
"They were looking for something more casual, more park-like, which is what you see at the University of Houston now," said James. "This was a trend that happened all over the country. College campuses took on a more suburban look, with a very casual planning to create a sense of place." 
Added were inviting spaces like the Cullen Family Plaza, which is now a place for students to gather and relax. Installation of the sculpture "Waterfall, Stele and River" by artist Lee Kelly took place in 1966. The Cullen Family Plaza was initially dedicated in 1972.
To view photographs or other items in the University archives, visit the M.D. Anderson Library weekdays from 9 a.m. to 5 p.m.
"We really welcome people to come in. A lot of our stuff is rare and unique, and in what we call 'closed stacks.' We can get it for you and show you how to use them, because there is nothing that replaces that hands-on experience with materials," said Manning.
---