Addressing nutrition, obesity, environmental chemicals and lifestyle, three University of Houston (UH) professors are included in a recently published book on cancer prevention.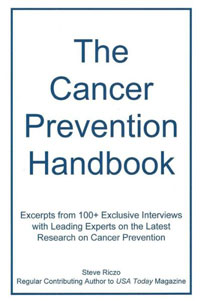 Interviewing more than 100 experts from universities, cancer centers, medical schools and other organizations around the country, author Steve Riczo says it's very much a wellness book with some of the most current thinking on a number of useful health topics. The book includes insight from various experts on effective weight loss and management, protecting children's health, ways to avoid potentially carcinogenic substances in the environment and effectively dealing with known cancer risk factors.
Titled "The Cancer Prevention Handbook," the book includes quotes from UH professors with the UH Department of Health and Human Performance, College of Natural Sciences and Mathematics and Graduate College of Social Work. Assistant professor of nutrition Tracey Ledoux and assistant professor of biotechnology Cecilia Williams are cited in the section on modifiable risk factors, and associate Dean of Research and associate professor Patrick Bordnick is cited in the section on changing behaviors that could lead to cancer.
"The University of Houston has an excellent reputation for research and academic excellence, so it was on my list of top-tier U.S. universities to tap for this important subject," Riczo said. "Drs. Williams, Bordnick and Ledoux all provided me with very interesting, insightful interviews."
According to the NIH's National Cancer Institute, while cigarette smoking and tobacco use are known to increase one's risk of cancer, physical activity, obesity, diet, alcohol consumption and the environment are also factors that may affect the risk of cancer. Riczo addresses these potential risks in his book, seeking general background from the UH researchers on their work that studies such areas as managing weight, changing harmful lifestyle habits and being mindful of environmental toxins.
Ledoux, who specializes in the treatment of obesity, appears in the chapter on obesity and nutrition. Riczo quotes her observations on genetic and hereditary factors of weight, as well as the difficulty of maintaining a healthy weight once the pounds are lost. Ledoux emphasizes the need to take a holistic approach to weight loss and maintenance. Citing behaviors such as grocery shopping and restaurant habits, emotional and stress management, sleep hygiene and caffeine consumption, Ledoux says, "It's not just about eating behaviors and exercise, it's also about their behavior outside of that ... an overhaul of their entire lifestyle."
In the chapter on behavior and lifestyle, Patrick Bordnick, who is director of the Child and Family Center of Innovative Research and the Center for Drug and Policy Research, addresses the tendency to relapse into old habits and is cited as saying, "Cues in our environment trigger memories and feelings of wanting that help trigger relapses ... and increase our cravings for alcohol, cigarettes and food. What it comes down to is making changes across your life – cognitive, behavioral, potentially environmental changes."
Williams, who has done extensive research on how environmental compounds affect hormone signaling, development and cancer in her work at the UH Center for Nuclear Receptors and Cell Signaling, is cited in the chapter on environmental chemicals, addressing the avoidance of estrogen-like exposures, such as BPAs.
Experts from more than 70 institutions were interviewed for Riczo's book, which is available through various online retailers. The author plans to give talks on cancer prevention and how to go about making positive health behavior changes based on these interviews.
###
About the University of Houston
The University of Houston is a Carnegie-designated Tier One public research university recognized by The Princeton Review as one of the nation's best colleges for undergraduate education. UH serves the globally competitive Houston and Gulf Coast Region by providing world-class faculty, experiential learning and strategic industry partnerships. Located in the nation's fourth-largest city, UH serves more than 39,500 students in the most ethnically and culturally diverse region in the country. For more information about UH, visit the university's
newsroom
.
To receive UH science news via email, sign up for
UH-SciNews
.
For additional news alerts about UH, follow us on
Facebook
and
Twitter
.
---