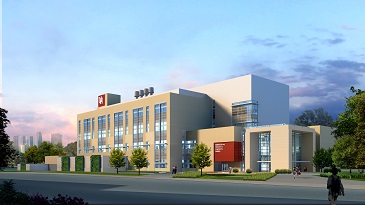 Groundbreaking for the University of Houston's new $51 million Multidisciplinary Research and Engineering Building will be at 10 a.m. Oct. 6.
Designed to encourage collaboration, it will house core facilities shared by researchers from departments around the campus, including high-performance computing facilities, a nuclear magnetic resonance spectrometer lab and imaging facilities.
Rathindra Bose, vice president for research and technology transfer, said shared facilities will give researchers access to more specialized equipment. But the quality of the equipment is only part of the reason for the shared resources, he said.
"When people get together, they will see common goals and share ideas," Bose said. "There are grant opportunities for multidisciplinary ideas. The engineering people will learn what's happening in biochemistry and vice versa. There will be cross pollination."
The push for core facilities and multidisciplinary research is happening all across academia, Bose said. The MREB is a prime example.  
The building is scheduled to open in 2016.
The new building is also a crucial component of plans to address the national shortage of engineers and increase enrollment in the Cullen College of Engineering to 8,000 students by 2025, said Dean Joseph Tedesco. The current 115 faculty members are expected to grow to more than 200 during the same period.
"It will enhance our ability to house our researchers in state-of-the-art laboratory facilities," he said. "It will help us attract top faculty and graduate students."
The Division of Research, Cullen College of Engineering and University Advancement each contributed funding for the new building. The Division of Research contributed $49 million toward the project, $36 million of which will be used for construction. The Cullen College of Engineering recently reached its $10 million goal, raising $10.14 million through a mix of corporate, foundation and individual donations.
The new lab space will help faculty do "cutting-edge research in energy and health care," Tedesco said, ultimately increasing research expenditures in the Cullen College of Engineering to $36 million annually and offering space to provide more opportunities for undergraduate research.
---