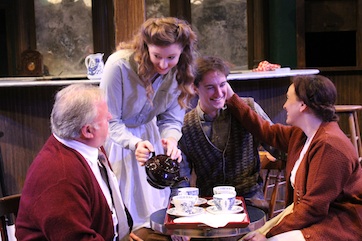 Audiences are accustomed to quality performances and dynamic stagecraft from the students of the University of Houston. Soon, Houstonians will have even more opportunities to experience the talents being groomed at UH's School of Theatre & Dance.
The school is collaborating with local theater companies this fall and spring. UH students will act in plays produced by Main Street Theater Company, Stages Repertory Theatre, Stark Naked Theatre Company and Alley Theatre. Additionally, Alley actors will contribute their talents to UH's production of Moliere's "The Miser" in spring 2015.
These collaborations are part of an initiative led by UH School of Theatre & Dance director Jim Johnson. Johnson's goal is to further connect student actors with Houston's stage community and allow them to broaden their audiences beyond the UH campus.
The first cooperative production pairs UH with Main Street Theater for Noel Coward's "Peace in Our Time" (directed by Rebecca Greene Udden). Previews begin Sept. 13 and performances run Sept. 18 – Oct. 19 at Main Street Theater – Rice Village (2540 Times Blvd.).
Main Street Theater's founding artistic director Rebecca Greene Udden is directing "Peace in Our Time." Her company's alliance with UH couldn't have come at a better time, she said.
"I am thrilled to have the opportunity to tap into this rich talent pool and never for a moment worried that I wouldn't be able to find exactly what I needed for this production," she said.  "The additional bonus of this collaboration is the ability to produce this particular show.  The cast requires many more people than we usually have.  We certainly couldn't have produced 'Peace In Our Time' without this collaboration. I love working with these bright, disciplined young actors."
"Peace in Our Time" will feature nine UH students, and Johnson is sharing his talents to the production as dialect coach. Additionally, students are serving on the dramaturgy and costume teams for this production. According to Johnson, several members of Main Street's cast and crew also happen to be University alums.
"Collaborations like this one with Main Street Theater are a perfect opportunity for our students to get plugged into the professional theater scene in Houston. It's a great way for them work with actors and directors from outside UH," Johnson said. "Audiences also benefit because they can see the talents we're producing here at the School of Theatre & Dance."
UH students also will perform in Stages' "Marie Antoinette" (Oct. 8 – Nov. 2) and Stark Naked Theatre Company's "A Midsummer Night's Dream" (March 5 – 20, 2015). In the spring, UH actors also will have roles in the Alley's production of "As You Like It" (Feb. 4 – 22, 2015 in UH's Wortham Theatre). Alley actors Todd Waite and David Rainey will return the favor by performing in UH play "The Miser" (April 24 – May 3, 2015 in the Jose Quintero Theatre).
Connecting students with the city's theater companies had long been one of Johnson's goals. With the Alley Theatre temporarily in residence at UH's Lyndall Finley Wortham Theatre, the timing was appropriate, he said. The school is delivering a smaller performance season in its Jose Quintero Theatre – complementing the Alley shows in the larger Wortham Theatre.
"We will continue to explore collaborative partnerships following the 2014 – 15 performance season," Johnson said. "Collaborations like these are good for our program and great for local theater."
In addition to its partnerships with local theater companies, the School of Theatre & Dance's performance season kicks off on Oct. 3 with "The Playboy of the Western World." For season details and ticket information, visit the school's website.
The UH School of Theatre & Dance produces pre-professional plays, dance concerts, studio productions, and school shows through the Theatre for Young Audiences program. Performances are delivered in in the Wortham Theatre and the Quintero Theatre. The UH School of Theatre & Dance offers bachelor's degrees in playwriting and dramaturgy, acting, design and technology, stage management and theatre education. Its graduate programs consist of a Master of Arts in theatre studies, a summer Master of Arts in theatre education, and Master of Fine Arts degrees in acting, and design and technology.  Noted alums include actors Jim Parsons, Dennis Quaid, Brett Cullen and Robert Wuhl. Faculty includes Tony Award-winning producer Stuart Ostrow and Tony-nominated designer Kevin Rigdon. Among the greats who have taught at the school are Edward Albee, Lanford Wilson, Sir Peter Hall, Jose Quintero, Patsy Swayze and Cecil Pickett. This fall, esteemed playwright Theresa Rebeck joined the school's faculty as Distinguished Professor of Playwriting. In 2012 and 2013, the school was named "Best College Theater" in the Houston Press Theater Awards. For details on UH's School of Theatre & Dance, visit www.theatredance.uh.edu.
---