This year marks the 13th anniversary of the Mars Rover Model Celebration and Exhibition at the University of Houston (UH). On Sept. 20 and 27, UH will host workshops to prepare teachers for coaching their students through the planning and completion of operational rover models. These Saturday seminars run 9 a.m. to 4 p.m. in the Kiva room 101 of Farish Hall.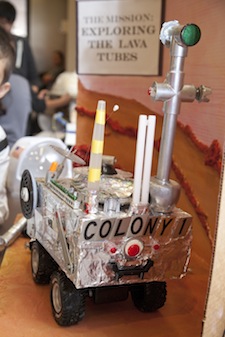 The model is a mock-up constructed at a minimal cost of $10 to $25 and is comprised of found objects and simple art supplies. The workshops train teachers to guide their students in building these models during six weeks of classroom and homework projects.
The first workshop covers the basics of Mars science, with a presentation that includes detailed information about past and present rovers and missions. In addition to reviewing what motivated these missions, the latest results from the Curiosity rover will be presented. This session also will cover methods for making classroom use of these real-time results.
Split into two sections, the second workshop's morning session covers details of newly revised curriculum materials and proven methodologies for supervising the projects. The afternoon session covers examples of the inquiry-based activities in the curriculum and ends with building a model rover. Each of the two Saturday workshops offers six CPE credit hours.
"Since 2002, UH and the American Institute of Aeronautics and Astronautics have sponsored and hosted this annual event in Houston," said physics professor and event founder Edgar Bering. "Designed for students in grades three through eight who are interested in science and engineering, this competition invites kids to design and construct a model rover to carry out a specific science mission on the surface of Mars."
The cost is $25 for one workshop or $40 for both and includes a continental breakfast and lunch. While walk-ins are welcome, advance registration is required to receive the model kit. Those who wish to have their classes participate in the program's NASA impact evaluation study must attend both days.
Student teams will present their work at the citywide finals held Jan. 31, 2015, at UH. In addition to the contest, they will have the opportunity to meet aerospace professionals, learn more about space exploration and participate in STEM activities and exhibits.
For registration information, visit
http://marsrover.phys.uh.edu/workshop.php
. For additional questions, contact Bering at
eabering@uh.edu
.
WHAT:
Mars Rover Model Celebration Teacher Workshop
WHEN:
9 a.m. to 4 p.m., Saturday, Sept. 20
9 a.m. to 4 p.m., Saturday, Sept. 27
WHERE:
University of Houston
Farish Hall, Kiva Room 101
WHO:
Instructed by Edgar Bering, UH professor of physics and electrical and computer engineering, for Houston-area elementary and middle school teachers

###
To receive UH science news via email, sign up for
UH-SciNews
.
For more information about UH, visit the university's
newsroom
.
For additional news alerts about UH, follow us on
Facebook
and
Twitter
.
---