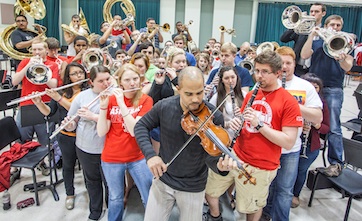 Before coming to the University of Houston, Daniel Bernard Roumain (or DBR) collaborated with a number of artists. The prolific musician has partnered with the likes of pop icon Lady Gaga, composer Philip Glass and dancer Savion Glover. It wasn't until he arrived at UH that DBR, said he had the opportunity to work with a world-class marching band.
As artist-in-residence for UH's Cynthia Woods Mitchell Center for the Arts, Roumain has cultivated a dynamic partnership with UH's Spirit of Houston Marching Band. This weekend, they will team up again for a special performance – titled "Armstrong" – during the UH football game halftime show at TDECU Stadium. Joining them will be the popular Grambling State University Tiger Marching Band.
"It's going to be a musical conversation," Roumain said. "Like any conversation, it's about listening, responding and creating. Both bands are very different. They have their specialties and selected repertoire. I'm the catalyst for bridging those two musical worlds."
Roumain said he will be on the field alongside both bands with his six-string electric violin laden with digital effects – making him the first "plugged-in" musician at the new TDECU Stadium. He did not commit to wearing an actual marching band uniform, but indicated there is a good chance he'll be wearing the home team's colors.
"If I could dip my violin in red paint, I'd certainly do that," he said.
The Cougar and Tiger marching bands will take on one of Roumain's compositions and he will join in the performance. He promises a big sound that will fill the 40,000-seat stadium.
Roumain's performance at the Sept. 6 halftime show concludes his residency with the Cynthia Woods Mitchell Center for the Arts. During his time at UH, he premiered at Discovery Green the site-specific four-hour composition "En Masse" featuring the Spirit of Houston Marching Band and artist/activist Marc Bamuthi Joseph. Roumain also worked with UH's AURA Contemporary Ensemble.
Although Roumain is departing UH, he is taking with him a new outlook on musical composition. Through collaborations with the nearly 400-member Spirit of Houston, he has been both challenged and inspired.
"UH and the Mitchell Center allowed me to think about my relationship as a composer to this city and the world," he said. "I've been able to look beyond the theater and the concert hall and connect with new audiences in new environments. I've had unique opportunities in Houston. It's been fantastic."
This weekend, the UH Cougar football team takes on the Grambling State University Tigers at 7 p.m. in TDECU Stadium. As part of Roumain's performance, discounted tickets are available for $21. Visit the Cougars ticket site and enter promo code "DBR."
In addition to his collaborations with other artists, Roumain's commissioned works have been performed by leading orchestras and ensembles across the country including the American Composers Orchestra, Boston Pops Orchestra, Brooklyn Philharmonic and Vancouver Symphony. Roumain's recorded works include "Woodbox Beats & Balladry" (2010), "etudes4violin@electronix" (2007) and "Pulsing" (2006). For a complete discography and to learn more about DBR, visit his website.
His appearance on Saturday is made possible by UH's Cynthia Woods Mitchell Center for the Arts. The Mitchell Center is dedicated to groundbreaking, transformational collaborations across the performing, visual, and literary arts. Based at the University of Houston, the Mitchell Center commissions and produces new works, presents public performances and exhibitions, offers curriculum and scholarships, and hosts residencies with renowned visiting artists from throughout the world. The Mitchell Center forms an alliance among five departments at UH: the School of Art, Moores School of Music, School of Theatre and Dance, Creative Writing Program, and Blaffer Art Museum. To learn more about the center, visit its website.
---