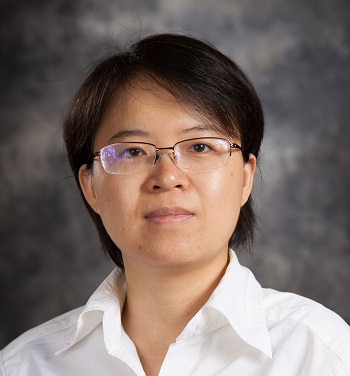 Shuo Chen, an assistant professor in the Department of Physics, has been awarded a Robert A. Welch Professorship in High Temperature Superconductivity and Materials Physics from the Texas Center for Superconductivity at the University of Houston (TcSUH). The Robert A. Welch Foundation created the two-year professorships to support outstanding faculty, research faculty and visiting scientists.
The appointment was effective Oct. 1.
"Understanding physical properties of materials are of great importance for their vast applications," Chen said. "I am appreciative of the support from the Robert A. Welch Professorship to accelerate my work on exploring novel physics in materials for electronics, energy and superconductivity."
Her research includes synthesis, in situ electron microscopy and device application of materials.  She aims to discover new physics and materials in superconductivity, electrocatalysis for fuel and energy generation, thermoelectrics for heat-electricity conversion, batteries for energy storage and phase change materials for electronics.
She is particularly interested in interfacial mass and electrical and thermal transport properties in materials. Such transport phenomena can play dominant roles in materials, especially where there are a large amount of nanostructures.
With her expertise in materials synthesis and in situ electron microscopy, she intends to fabricate individual nanostructures and interfaces, then apply in situ atomic resolution electron microscopy for simultaneously acquiring structures and transport properties in nanoscale interfaces with controllable temperature, electrical and mechanical conditions.  Ultimately, she plans to apply the fundamental understanding gained to design superior materials for applications.
Allan J. Jacobson, TcSUH director and the Robert A. Welch Chair of Science in the UH chemistry department, said he is pleased the Center for Superconductivity is expanding its energy materials program.
"We look forward to Chen's exciting research," he said.
About the University of Houston
The University of Houston is a Carnegie-designated Tier One public research university recognized by The Princeton Review as one of the nation's best colleges for undergraduate education. UH serves the globally competitive Houston and Gulf Coast Region by providing world-class faculty, experiential learning and strategic industry partnerships. Located in the nation's fourth-largest city, UH serves more than 40,900 students in the most ethnically and culturally diverse region in the country.
Texas Center for Superconductivity at UH (TcSUH)
TcSUH is the largest multidisciplinary university-based superconductivity and advanced materials research center in the U.S., with more than 200 faculty, postdoctoral fellows, graduate and undergraduate students.  The Center's personnel create and develop high temperature superconducting and advanced materials, further their understanding, and develop commercial applications.
---