Each day, bold new ideas emerge from the studios of the University of Houston's Industrial Design (ID) program. Students envision original concepts for products, amenities, fashion and other items. They also engage in projects that enhance industries and promote innovation.
This year, the ID Program's efforts in grooming tomorrow's top designers – as well as generating groundbreaking designs – helped place it among the top institutions in the world. UH's ID program is now ranked No. 14 globally according to the Red Dot Design Ranking 2014.
The Red Dot Design Award honors excellence in product and communication design. UH's ID Program – based within the Gerald D. Hines College of Architecture – was recognized for its accomplishments over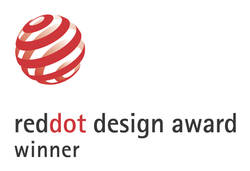 the past five years. Awards are presented by noted institution Design Zentrum Nordrhein Westfalen in Germany.

"This ranking reflects the hard work of our students, as well as our faculty," said EunSook Kwon, director of UH's ID Program. "This is still a young program, but it's grown quickly. We're honored by this ranking and will continue to strive for excellence in our curriculum and in how we prepare our students for the field of industrial design."
In addition to its ranking, the program had two other honors to celebrate. Alumnae Andrea Novoa and Yen Le Loftin both earned Red Dot Awards for projects that were initially developed at UH.
Novoa's "Manta"  , a flotation device that can be used to teach adults to swim, earned honors in Red Dot's Recreation category. And taking Best of the Best in the Third Age category was Loftin's "Uplift," a collapsible personal utility cart.
These ID projects are among many that were developed at UH. Other examples of ID students' ingenuity include award-winning designs that enhance safety, communication, and the quality of people's daily lives. These include "Spinal Cord" (safer, more efficient extension cord), "Beehave" (modified beekeeper's jacket), "Out of Sight" (glass removal tool for construction sites), "Smart Measure" (spill-resistant measuring spoon), "Connect" (electric plug system to assist people with physical disabilities) and "MyVoice" (sign language translator). Recently, the ID Program was selected to participate in the Student Chair Design Competition sponsored by Wilsonart. Students created customized designer chairs that toured the United States and were on view at the International Contemporary Furniture Fair (ICFF) in New York, NY.
UH's Industrial Design program grooms aspiring designers through a calculated curriculum program. First-year students learn design fundamentals in the classroom and the studio. During their second year, students familiarize themselves with industrial design history, materials, manufacturing methods and visual communications skills. Third-year students conduct research and apply their findings to design projects. By their fourth year in the program, students are prepared for careers through curriculum addressing diverse design issues, design ethics, business practices and strategies.
A graduate program in industrial design was introduced in 2013. The two-year, 36-hour program advocates a new form of design knowledge merged from theory and practice, and forged with connections to the medical, energy, aerospace, computer and entertainment industries. Students can earn a Master of Science and/or an Entrepreneurship Certificate (through a partnership between the College of Architecture and C.T. Bauer College of Business).
---