George Gershwin's "Rhapsody in Blue" is an American classic. Its opening notes are instantly familiar to audiences around the world and often elicit passionate applause.
One can only imagine the response when this piece is performed on a Steinway grand piano by one of Houston's most esteemed concert pianists …  at the 50-yard line of a college football stadium filled with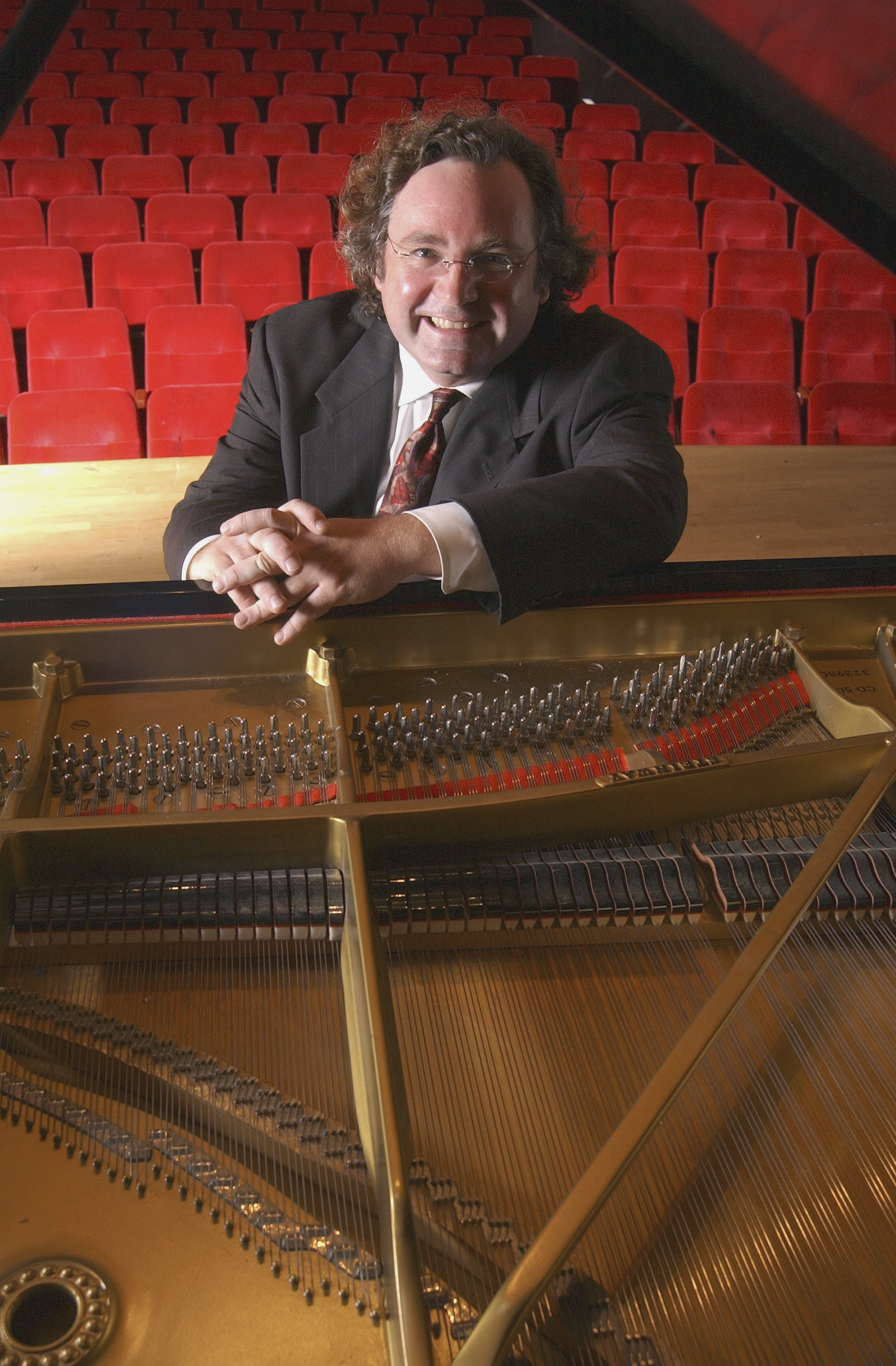 enthusiastic fans.
During Friday's University of Houston/Temple University football game, fans can enjoy a spectacular performance of "Rhapsody in Blue" by UH professor Timothy Hester and the Spirit of Houston Marching Band. Hester will add a touch of "Cougar Red" to "Rhapsody in Blue" as he will perform on a scarlet Steinway.
The halftime performance will not only entertain Cougar fans, it will help kick off the UH Moores School of Music's (MSM) new partnership with Steinway & Sons, the world's leading piano manufacturer.
Through the generosity of an anonymous donor, MSM is on its way to becoming an all-Steinway institution. All music students soon will have access to Steinway pianos in every practice room, every faculty teaching studio, and on every MSM performance stage.
The donor is contributing $5 million. Funds will provide MSM with 170 Steinway pianos – giving the school one of the largest inventories of New York Steinways in the world. 
The donor has challenged the MSM to raise $1 million for an endowed fund to support the maintenance of these instruments—a critical component of any comprehensive educational plan in a school as large as the MSM. With proper upkeep, a Steinway piano has a life span that exceeds 100 years.
"Steinway is recognized the world over as the industry standard," said Andrew Davis, director of the Moores School of Music. "Everyone benefits from this. The plan will ensure fiscal responsibility for years to come. Faculty and students will have access to the best instruments in the world. Houston audiences will hear these fine pianos, and the University of Houston will affiliate with the excellence and tradition associated with the Steinway brand."
The fans at the Oct. 17 game (kicking off at 8 p.m.) at UH's TDECU Stadium will experience the majesty of a Steinway grand piano, and Hester is excited to perform on this special "Cougar Red" edition of the instrument.
"The role of piano in any music school is critical. The instrument factors into almost every performance," he said. "Steinway offers musicians endless possibilities for musical color and nuance. Our students will practice and perform on these wonderful instruments. It will improve their abilities and enhance the quality of all of the music in our school."
Steinway & Sons was founded in 1853 by Henry Englehard Steinway. Along with his sons, Steinway crafted and constructed each instrument one at a time. The skills developed by the Steinway family have been passed down for generations. Every Steinway piano is built with the same care and craftsmanship that defined the company's earliest models. To this day, each Steinway piano takes up to one year to make. To learn more about Steinway & Sons, visit its website.
The Moores School of Music is one of the premier music schools in America. Offering bachelor's, master's and doctoral degrees, it serves approximately 600 students annually. Areas of study include composition, conducting, performance, theory and musicology. Its faculty consists of internationally recognized performers, composers and scholars. Among its ensembles are the Moores School Symphony Orchestra, Moores Jazz Ensemble, Moores Opera Center, Concert Chorale, Concert Women's and Men's Choruses, the Spirit of Houston Cougar Marching Band, Wind Ensemble and Percussion Ensemble. A majority of the school's concerts are performed in the internationally recognized 800-seat Moores Opera House. For more details on the Moores School of Music, visit http://www.music.uh.edu/.
---