Art Rascon, Emmy award-winning reporter and anchor for KTRK channel 13, will serve as the keynote speaker for the University of Houston Center for Mexican American Studies' (CMAS) scholarship banquet.
The 18th Annual Noche Cultural Scholarship Banquet is planned from 6 – 8 p.m., Saturday, Oct. 25 in the Conrad N. Hilton Ballroom of the Hilton University of Houston.  Proceeds from the event benefit students from the CMAS Academic Achievers Program (AAP).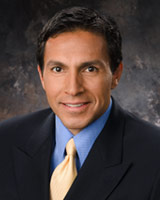 "The students of AAP understand the value of an education and hard work," said Tatcho Mindiola, professor and director of CMAS. "Their dedication to their own future inspires us to continue our support of them—in mentorships, networking opportunities and scholarships."
The AAP, designed to retain and propel more students to graduation, recently was recognized by the national organization Excelencia in Education as one of the "2014 Examples of Excelencia." Fifteen programs in the country were recognized for increasing Latino student success in higher education.
Formerly a correspondent with CBS news, Rascon has received numerous honors, including 19 Emmy awards. A native of El Paso, he calls himself a student of Spanish, the humanities, politics and history. 
"I come from a background of uneducated parents and grandparents and have witnessed their struggle to gain solid employment," Rascon said. "It was difficult for them. It's difficult for everyone who is not college educated. The world is a competitive place and we need young people ready and anxious to make a difference. This scholarship banquet honors those who want to make a difference."
For more information on the 18th Annual Noche Cultural Scholarship Banquet, visit http://uh.edu/class/cmas/news/banquet-2014/
WHO:  UH Center for Mexican American Studies
WHAT: 18th Annual Noche Cultural Scholarship Banquet
WHEN: 6 – 8 p.m., Saturday, Oct. 25
WHERE:  Hilton University of Houston, Conrad N. Hilton Ballroom, Entrance One off Calhoun Blvd
For directions and parking information, visit http://www3.hilton.com/en/hotels/texas/hilton-university-of-houston-HOUUHHF/maps-directions/index.html
---