Patrons of University of Houston arts programs are noticing a significant change to the campus. A new and improved courtyard connecting some of UH's principal performance and exhibition venues is open and awaiting audiences.
Wilhelmina Grove – named for longtime UH supporter Wilhelmina Daisy Cullen Robertson Smith – is the latest campus enhancement and is serving as a gateway to the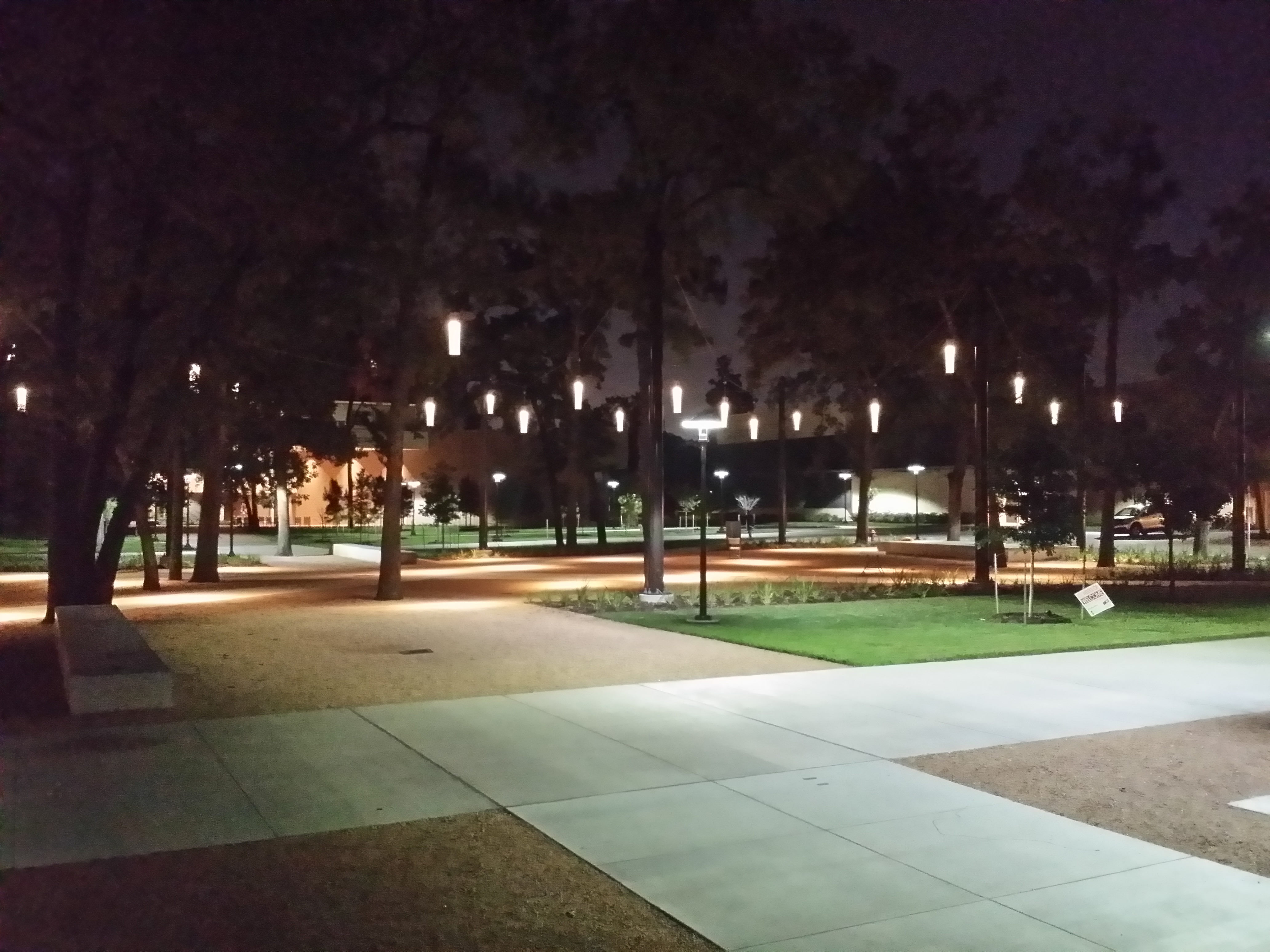 University's arts programs and events. It's also a perfect pre-performance space to enjoy refreshments and conversation.
Over the summer, construction crews worked to complete this $2.2 million project in time for the Alley Theatre's arrival at UH's Lyndall Finley Wortham Theatre and for the start of the fall semester. Alley audiences and students are already experiencing this revamped area of Cougar Country.
Located off Cullen Boulevard at Entrance 16, Wilhelmina Grove serves as an intersection for the Fine Arts Building (housing Blaffer Art Museum and music recital halls), the Cynthia Woods Mitchell Center for the Arts building (housing the Lyndall Finley Wortham Theatre and Jose Quintero Theatre) and the Moores School of Music/Moores Opera House. It also is a welcoming area for patrons with amenities that assist in navigating UH's Arts District and areas for relaxing and socializing.
The area includes decomposed granite as sustainable ground material. It's suited for accommodating pedestrian traffic, booths and kiosks. Other components of the Grove include a concrete seating platform, improved pedestrian lighting, suspended lanterns that illuminate the area at night, enhanced landscaping, and a direct road leading from Entrance 16 to the ticket pick-up spaces in front of the Wortham Theatre.
"The reconfiguration of the former arts courtyard into the new Grove really clarifies the gateway into the center of the Arts District," said Jim Johnson, director of UH's School of Theatre & Dance. "I'm especially excited about the new lighting and what the Grove will look like for people who are coming on campus for arts events and performances. I think many of them will be pleasantly surprised to have this as their first experience of the University of Houston."
The Grove's namesake was a longtime friend and devotee of the University and a patron of the arts in Houston. Smith – who passed away in 2009 – was the last surviving daughter of UH's founding family Hugh Roy Cullen and Lillie Cranz Cullen. She attended UH and graduated in 1944. Her husband, Corbin J. Robertson, was an avid sports enthusiast and the namesake of the University's previous football stadium. Smith was a life member of the UH Alumni Organization and a recipient of the 1989 Distinguished Alumni Award. In 1988, she received an honorary doctorate from UH.
Her daughter Lillie T. Robertson said that the Grove perfectly exemplifies the qualities that made her mother a much beloved and respected figure on campus and in the community.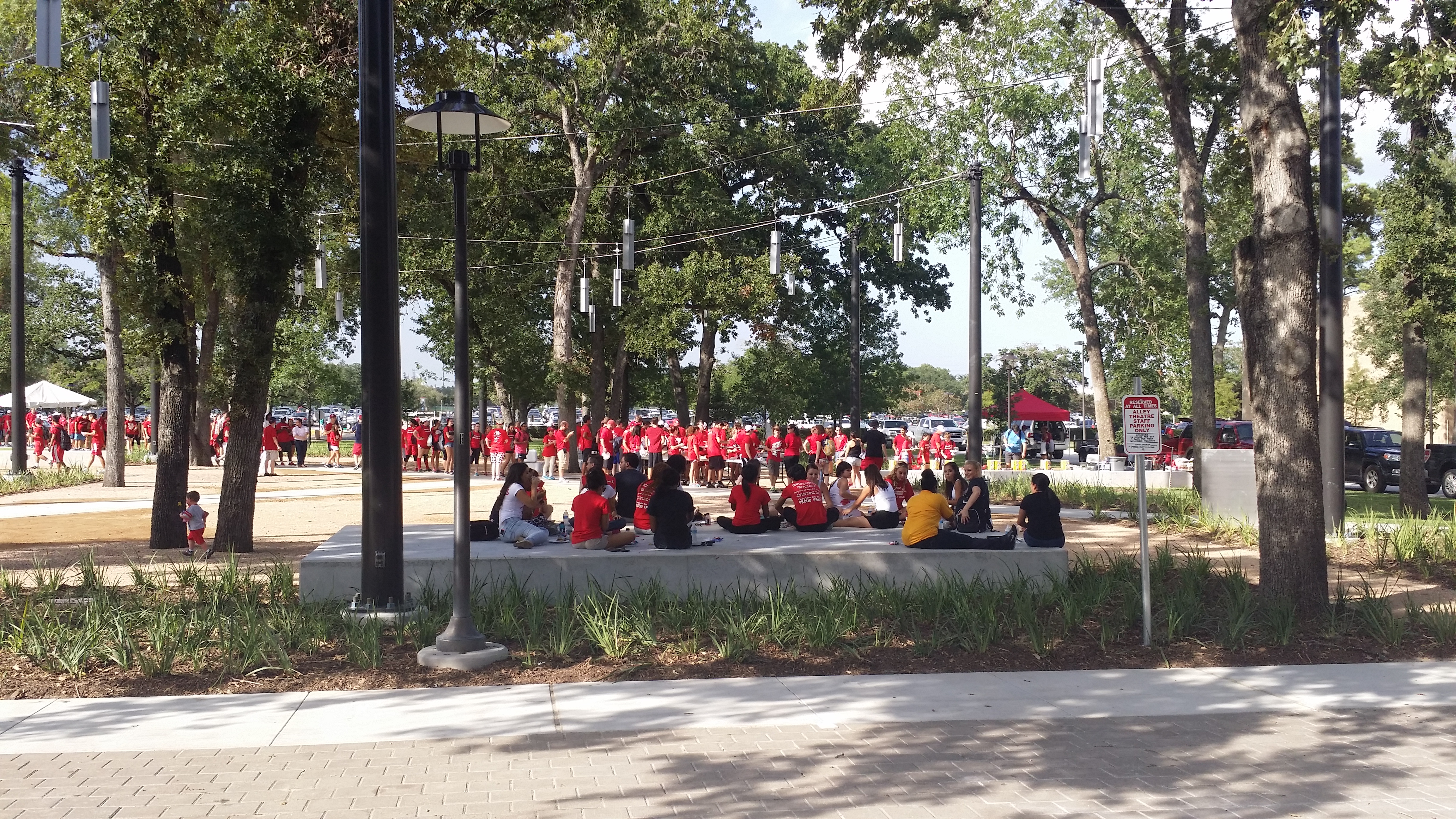 "Wilhelmina Grove, named for our mother, reminds me of her because it possesses such simplicity and grace," Robertson said. "It is just the kind of place she'd create – a modern and elegant plaza in an old grove of trees that invites people to gather and enjoy the outdoors. It also serves as the gateway to UH's wonderful artistic institutions of music, theater, and art – the arts programs that she patronized at the university that she loved. My family – Beth Robertson, Corby Robertson, Carroll Ray and Alison Baumann – and I are delighted by its functional beauty that honors her so well."
Construction on the Grove began in February and wrapped in August. Dean Ruck, senior project manager with UH Facilities, Planning and Construction, oversaw the project with assistance from Mike Yancey, director of Facilities Planning, and Katherine Miller, interim executive director of Facilities, Planning and Construction. SWA Group designed the site and construction was handled by Vaughn Construction.
Donor contributions for the Grove totaled $1.7 million. Supporters who made this project possible include the Cullen Trust for the Performing Arts; Lillie T. Robertson/CJ Foundation Fund of the Greater Houston Community Foundation; The Wortham Foundation Inc.; Carroll R. Ray and Hugh M. Ray/CRL Family Fund of the Greater Houston Community Foundation and Houston Endowment Inc.
"The Grove is a great front door to our theaters and performance halls," Ruck said. "It's also a very welcoming area in which to congregate, and it provides visibility to our arts venues. While it's a great amenity for UH arts patrons, the Grove also should facilitate exchanges between the students and faculty in music, theater and art." 
---