The first Poet Laureate for the city of Houston comes to the University of Houston for a reading and discussion of her most recent collection of poems.
"A Presentation by Houston's Poet Laureate Gwendolyn Zepeda at the University of Houston" is planned from    2:30 – 4 p.m., Wednesday, Oct. 15 in the UH Honors College Commons. It is part of the annual Houston Poetry Fest and is free and open to the public.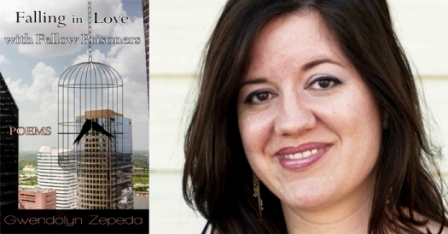 Zepeda will read from "Falling in Love with Fellow Prisoners," talk about growing up in Houston's Sixth Ward and about how she became a writer. Her second collection of poetry, "Monsters, Zombies and Addicts," is forthcoming from Arte Público Press in spring 2015.
She became Houston's first Poet Laureate in 2013, a title she'll keep until 2015.
Zepeda is an alum of UH's Arte Público Press (APP), which published her first book, "To the Last Man I Slept with and All the Jerks Just Like Him," in 2004. She also is the author of "Houston, We Have a Problema," and a several bilingual children's books such as "I Kick the Ball/Pateo el balón," "Growing up with Tamales/Los tamales de Ana," and "Sunflowers/Girasoles." All are published by APP. 
The event is co-sponsored by the Houston Arts Alliance, Houston Poetry Fest, Poets & Writers, and the University of Houston's Arte Público Press; Center for Mexican American Studies; Creative Writing Program; Hispanic Studies Department; Women's, Gender & Sexuality Studies; and Honors College.
WHAT: "A Presentation by Houston's Poet Laureate at the University of Houston," with Gwendolyn Zepeda
WHEN:  2:30 – 4 p.m., Wednesday, Oct. 15
WHERE:  The Honors College Commons, second floor of the UH M.D. Anderson Library, Entrance 1 off Calhoun
For directions and parking information, visit: http://www.uh.edu/maps/buildings/?short_name=L
---