Houston-area grade schoolers have until Nov. 15 to reserve a spot in the 13th Annual Mars Rover Model Celebration and Competition at the University of Houston (UH).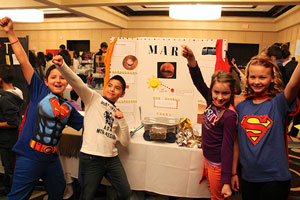 Open to students in grades three through eight, the contest calls for future scientists and engineers to create operational models that can carry out a specific scientific mission on the surface of Mars. Part of the challenge is that they must restrict themselves to found objects and minimal art supplies costing no more than $25 – a budget that would make any NASA administrator quake.
Workshops held at UH in September prepared teachers for coaching their students through the planning and completion of their rover models. Edgar Bering, UH professor of physics and electrical and computer engineering, will host a supplemental 'Hangout on Air' Webinar from 4-6 p.m. Friday, Nov. 7 on Google Plus.
By now, most students have received design criteria for a rover and have begun basic research on Mars that will determine the operational objectives and structural features of their rovers. The models are being built as part of a six-week classroom-learning or homework project on Mars. Last year, nearly 800 students, 700 volunteers and 190 teams took part in this event.
"The Mars Rover Celebration is a key piece of educational outreach to spark interest in the fields of science and engineering," said Bering. "As educators, we are challenged to convince elementary school students that these fields offer exciting, relevant and accessible career paths. Events like this help by offering hands-on projects that provide very true-to-life results that encourage children to take learning beyond the textbook."
The event is in its 13th year and is open to the public. It is scheduled to take place 9 a.m. to 6 p.m., Jan. 31, 2015, in the Houston Room of the University Center. An entry form is available at
https://marsrover.uh.edu/eventregistration.aspx
or by contacting Edgar Bering at
eabering@uh.edu
or 713-743-3543.
WHO:
Area elementary and middle school students      
WHAT:
Deadline for 13th Annual Mars Rover Model Celebration
WHEN:
Saturday, Nov. 15
WHERE:
Entry form:
https://marsrover.uh.edu/eventregistration.aspx
CONTACT:
Edgar Bering, 713-743-3543,
eabering@uh.edu

###
To receive UH science news via email, sign up for
UH-SciNews
.
For more information about UH, visit the university's
newsroom
.
For additional news alerts about UH, follow us on
Facebook
and
Twitter
.
---