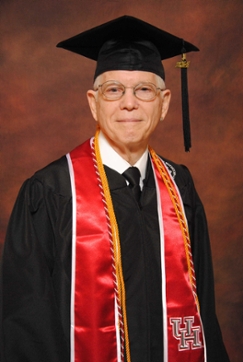 HOUSTON, May 7, 2014 –Robert Lincoln Straight and Stephen Doiron are the oldest graduates at the University of Houston's College of Liberal Arts and Social Sciences (CLASS) this spring 2014. Straight will walk the stage at UH's Commencement ceremony on Friday, May 9, 2014 at 2 p.m. at Hofheinz Pavilion.
Straight, the elder of the two graduates by three months, is 72 years old and will earn a Bachelor of Fine Arts degree in studio art with a focus on sculpture. He is a self-employed jewelry designer and has been accepted into the Master of Fine Arts program at Houston Baptist University. 
"It's been fun going to school with kids my grandkids' age. I've met a great group of people, they're really smart, creative and fun," said Straight. "You have to have young friends because everyone else dies off when you're old. Who is going to help you cross the street? It's not one of the your old friends. It's the young ones."
Straight's inspiration for going back to college is his brother-in-law. In the 1950s, his brother-in-law left high school early and went into the military. When he returned from the military, he married Straight's sister, completed his GED diploma, earned a bachelor's degree from UH, and went on to complete master's and doctorate degrees. He taught engineering for many years at UH. 
"He did this all with three kids and a wife. I thought to myself if he can do it, then I can do it easy," Straight said. "I am a firm believer that you should never stop learning and you should go back to school every 50 years. I love the computer so much, and technology has changed with computer programs and cell phones. I can write now. It's the most fun I've had."
It was Doiron's love of writing that pushed him to return to college after being urged by his father to leave school and join the military in 1960. A journalist by trade, he wanted to increase his knowledge of literature to improve his creative writing. Soon after getting his Bachelor of Arts in English with a concentration in literature and a minor in film studies, he will celebrate his 72nd birthday on May 19.
"I've been walking on air since arriving on campus in January of 2012," said Doiron. "I've been learning how to connect all of the different concepts I am familiar with."
His hard work and dedication earned him invitations to join UH's Phi Kappa Phi Honor Society and Sigma Tau Delta, the international English honor society.
Dorion says his advanced age offers him some advantages when it comes to his college education. It made him fearless in the classroom.
"I'm not a young person, so I have no fear of opening my mouth and saying something or asking professor to explain concepts better – and then asking them to explain them again," he said.
Doiron will celebrate his graduation at home, marking the completion of something he left unfinished many years ago. Then, he will head back into his writer's room and continue writing his narrative.
For additional details on UH Commencement, visit this website http://www.uh.edu/commencement/index.php for a list of ceremonies and events. 
###
About the University of Houston
The University of Houston is a Carnegie-designated Tier One public research university recognized by The Princeton Review as one of the nation's best colleges for undergraduate education. UH serves the globally competitive Houston and Gulf Coast Region by providing world-class faculty, experiential learning and strategic industry partnerships. Located in the nation's fourth-largest city, UH serves more than 39,500 students in the most ethnically and culturally diverse region in the country. For more information about UH, visit the university's newsroom at http://www.uh.edu/news-events/.
---