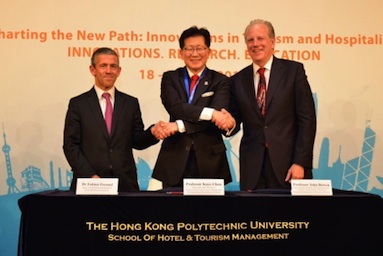 A new partnership between top hospitality colleges on three continents creates a unique program to educate a new generation of global hospitality industry leaders. 
The University of Houston Conrad N. Hilton College of Hotel and Restaurant Management, Hong Kong Polytechnic University School of Hotel and Tourism Management (SHTM) and Switzerland's Ecole hôtelière de Lausanne (EHL) have signed a Letter of Intent to establish a tripartite master's degree in global hospitality business.
"This innovative educational strategy will enable participants to effectively lead organizations in a world that has become increasingly connected," said John Bowen, dean of the UH Hilton College. "When they graduate, not only will they have global educational experience, but they will have established a network of global leaders—those whom they met on their journey as well as the classmates who took the journey with them."
Under the Letter of Intent, the three colleges have agreed to establish a new graduate level program to be launched in 2015—the Master of Science in Global Hospitality Business. The program will allow hospitality students from Europe, Asia and North America to spend one semester in each of the three continents.
The letter stipulates that a common curriculum that meets the academic standards and regulations of the respective institutions be developed. Upon graduation, students of the program will receive the master's degree from their home institution and certificates of completion from the other two schools.
 "This pioneering program is expected to produce a new breed of leaders with strong global perspectives and an understanding of cultural emersion in the global hospitality business," said Kaye Chon of Hong Kong's Polytechnic University.
A signing ceremony featuring the deans of the three programs took place at the Hotel ICON, which serves as the Hong Kong institute's teaching and research hotel.
"We are bringing three cultures together and capitalizing on three outstanding faculties and campuses," said Fabien Fresnel of the EHL college. "We will create a unique experience for the students and, ultimately, enhance their ability to become the next generation of business leaders who can think global and act local."
---