The caretakers of Houston history at the University of Houston have new support from a familiar ally.  Welcome W. Wilson, Sr., alum and former UH System Board of Regents chairman, has given a $200,000 gift to the UH Center for Public History (CPH).  The gift establishes the Welcome W. Wilson Endowment and sponsors the Welcome Wilson Houston History Collaborative. 
"This is the most important financial gift the center has yet received by an individual synonymous with the history and heritage of the University of Houston and our community at large," said Professor and CPH Director Martin Melosi. "We can think of no better name to have associated with our program than Welcome Wilson."
Formerly the Houston History Project, the newly named collaborative is directed by history and business Professor Joe Pratt and will continue to publish Houston History magazine. Additionally, the collaborative manages the UH Oral History of Houston, the UH Houston History Archives and UH Memories Documentary Films.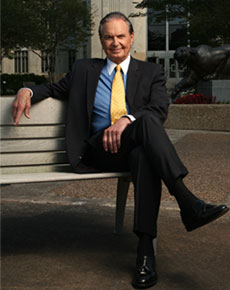 "Tracking the history of Houston has been a passion of mine since I came here for college 68 years ago," said Wilson. "I am very honored that this important UH endeavor will bear my name."
Since 1984, the center has been a leader in the field of public history. Faculty and students collect data and conduct scholarly research on various aspects of the city of Houston. The program is home to some 20 graduate students annually, many of whom go on to pursue careers in venues such as the Smithsonian Institution, presidential libraries and academic entities across the country.
Pratt noted, "We are quite proud to see Welcome's name on our door. His generous support will allow us to continue our ongoing work and take on additional projects when they arise. It will be used primarily to support the graduate and undergraduate students who work with us."
Welcome W. Wilson, Sr., is the Chairman of the Board of GSL Welcome Group, LLC, a principal in Kingham Dalton Wilson, Ltd., and a long time real estate developer in Southeast Texas. Wilson recently was inducted into the Texas Business Hall of Fame and received the Houston Business Journal's Lifetime Achievement Award. He served as the chair of the UH System board of Regents from 2007-2010.
His philanthropy at the University includes supporting the campaign to rename the UH School of Communication for Jack J. Valenti, supporting the UH M.D. Anderson Library with an endowment gift in memory of his brother Jack, and naming the Joanne Guest Wilson gallery in Blaffer Art Museum in honor of his wife.
For more information on the projects of the Welcome Wilson Houston History Collaborative, visit http://www.uh.edu/class/ctr-public-history/research-projects/index.php
---