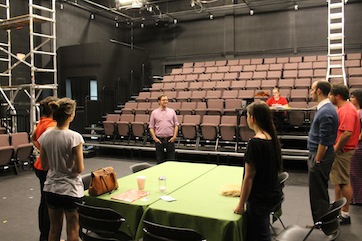 – It's not every weekend that Houstonians can experience more than a dozen world premiere plays at a single theater. On April 5 and 6, however, audiences can take in 14 new works written by University of Houston students and artists from across the country.
Of course, theater-goers won't need to pack their pajamas for what might seem like a marathon of stagecraft. UH's first 10-Minute Play Festival will deliver condensed productions over the course of two days in UH's Jose Quintero Theatre (Entrance 16 off Cullen Boulevard).
The festival will present seven plays on April 5 with the remaining seven to be performed on April 6. Tickets are $20 and $10 for students and seniors. To purchase tickets, visit the UH School of Theatre & Dance website.
"My hope is that audience members hold on to their programs," said Rob Shimko, professor at the UH School of Theatre & Dance who coordinated this project. "We have high hopes for every single student participant in the festival. You never know who's going to be the next star. It is incredibly exciting to see the work of these young artists."
Just as audiences will benefit from witnessing fresh talent, the students gain much from the festival. Student playwrights receive the invaluable opportunity to showcase their work. Additionally, student actors, stage managers and other crew members are able to hone their talents.
Shimko is directing four of the festival's plays and oversaw the process of selecting works. He selected seven plays from UH Bachelor of Fine Arts theater students. He also issued a call-for-works (aimed at artists outside of the University), and more than 200 plays from around the world poured into his email inbox. He then charged his dramaturgy students with reading those submissions and selecting 20 plays. Shimko whittled those down to seven.
"My goal was to get student playwrights' works on stage, so they can experience the production process," he said. "I want them to see the process of actors working through their characters. And I want them to be available to answer directors' questions or cast members' questions."
For many new playwrights, the biggest lesson learned from the 10-Minute Play Festival is making subtle creative compromises to accommodate an abbreviated production.
"What playwrights conceive in their minds, and what is doable on stage often differs," Shimko said. "It's a tremendous learning experience for the playwright.  They often learn that what the cast and director need might not be in the initial draft."
Senior Sawyer Estes' play "In the Tub" is among the works featured in the festival. Its plot focuses on a woman wading within a bathtub while awaiting the arrival of the man she loves and her husband. The experience of composing a short dramatic work has been particularly rewarding, he said.
"His experience is essential for young writers. Being produced is absolutely essential - for confidence, for style, for lessons in collaboration," he said. "This process has helped me in all three areas. If today's theaters, universities and audiences do not take the necessary risks in producing and seeing new works then nothing new or exciting will arrive on the stage. We will remain voiceless, and our audience will grow increasingly old and tired. Thank you to the University of Houston for taking a step in the right direction!"
Shimko added that this year's event is indeed the first of many 10-Minute Play Festivals, and he is optimistic about the event's growth.
"The second festival is already on the books for next year," he said. "We're on the ground floor with several new playwrights and plan to do this again with others."
A list of plays and playwrights is as follows:
Group A – Performances at 1:30 p.m., 7:30 p.m., April 5
"The Mimes and Mummers Convention" by Lawrence Thelen
"It's a Fine Day for a Picnic" by Caitlin Turnage
"Lions" by Kendall Kaminsky
"In the Tub" by Sawyer Estes
"Deep Water" by Peter Kennedy
"A Continuing Resolution" by Robert Price
"Roadside" by Elizabeth Keel
Group B – Performances at 1:30 p.m., 6 p.m., April 6
"No Pizza to Make" by Bonnie Christiansen
"Ripley" by Chelsea Stanley
"Lil Boo" by Alyson Mead
"Tea for One" by Steve Heverly
"Fingerfood" by Cecilia White
"For Gold" by Troy Loftin
"The Sluts" by Ben Merriman
The 10-Minute Play Festival is made possible by the talents at UH's School of Theatre & Dance. The school produces pre-professional plays, dance concerts, studio productions, and school shows through the Theatre for Young Audiences program. Performances are delivered in in the Wortham Theatre and the Quintero Theatre. The UH School of Theatre & Dance offers bachelor's and master's degrees in theater and teacher certifications in dance and theatre. Its graduate programs consist of a Master of Arts in theatre studies, a summer Master of Arts in theatre education, and Master of Fine Arts degrees in acting and design.  Alumni include actors Jim Parsons, Dennis Quaid, Brett Cullen and Robert Wuhl. Faculty includes Tony Award-winning producer Stuart Ostrow and Tony-nominated designer Kevin Rigdon. Among the greats who have taught at the school are Edward Albee, Lanford Wilson, Sir Peter Hall, Jose Quintero, Patsy Swayze and Cecil Pickett. In 2012 and 2013, the school was named "Best College Theater" in the Houston Press Theater Awards. For details on UH's School of Theatre & Dance, visit www.theatredance.uh.edu.
---