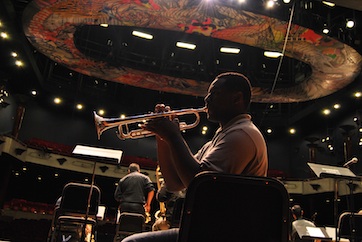 Jazz might be America's greatest international artistic export. Audiences around the world revel in this musical genre created by early 20th century U.S. composers. Houston concertgoers soon will have the opportunity to celebrate the songs that spawned American popular music during a special performance by the University of Houston's Moores Jazz Orchestra.
In honor of National Jazz Month in April, the orchestra will deliver "The Great American Songbook," a concert showcasing the works of Cole Porter, Jerome Kern, George Gershwin and Harold Arlen. The show kicks off at 7:30 p.m., April 16 in UH's Moores Opera House (Entrance 16 off Cullen Boulevard).  Tickets are $12 and $7 for UH students and seniors. They can be purchased through the Moores School of Music's online box office or by calling 713-743-3313.
The performance will offer more than just popular standards, said UH jazz director Noe Marmolejo. It will provide the audiences with a historical narrative augmented by projected images. Broadcast veteran Donna McKenzie will provide narration for the concert.
"The songs we're playing are jazz staples," Marmolejo said. "These are classic and very important tunes that helped define this truly American art form and shaped the careers of countless musicians."
Songs to be performed include: "I Love You" (Porter), "All The Things You Are" (Kern), "My Shining Hour" (Arlen), "Strike Up The Band" (Gershwin), "I've Got You Under My Skin" (Porter), "I'm Old Fashioned" (Kern), "Over the Rainbow" (Arlen) and "I Concentrate on You" (Porter).
Complementing the jazz orchestra will be UH alum and Grammy-nominated singer Tianna Hall. Also handling vocal chores is orchestra member and recording artist Henry Darragh.
The Moores Jazz Orchestra also will perform sections of "The Great American Songbook" as part of the free Da Camera Jam at 6:30 p.m., April 17 in Houston's Discovery Green (1500 McKinney St.).
The Moores Jazz Orchestra is one of the ensembles in the UH Moores School of Music's (MSM) jazz department. Led by Marmolejo, the orchestra performs on campus and around the city. Each year, it collaborates with top players and national recording artists during the Moores Jazz Festival and campus residencies. Among those who have visited campus are trumpet master and film score composer Terrance Blanchard, sax man Bill Evans, noted educator and saxophonist Brad Leali, Blood, Sweat and Tears trumpet player Lew Soloff and many others have visited campus to perform with the orchestra. To learn more about the Moores Jazz Orchestra, visit the UH Jazz website.
---