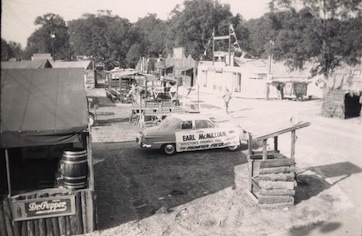 – It's that time of year at the University of Houston. Students soon will celebrate Cougar Pride during Frontier Fiesta March 20 - 22. The annual student-driven festival delivers three days of music and merriment on campus. It also helps raise scholarship dollars for freshmen Coogs.
Frontier Fiesta kicked off in the 1940s and once attracted a who's who of Hollywood stars (Humphrey Bogart, James Garner). Life Magazine proclaimed it "the greatest college show on earth." Now, Frontier Fiesta's history will be commemorated during an exhibit at the University's M.D. Anderson Library (Entrance 1 off Calhoun Road).
"Frontier Fiesta: The Greatest College Show on Earth" will be presented March 18 – June 6 on the library's first floor. It will chronicle three different Frontier Fiesta eras: 1940 – 41, Post WWII and 1992 – present. Items to be showcased include vintage programs, photographs, apparel, articles and memorabilia from past events. It also will feature video interviews with past Frontier Fiesta organizers and student volunteers.
The campus community is invited to kick off the exhibit's opening during a public reception that runs 4 – 6 p.m., March 18 on the library's second floor. Former UH System Board of Regents chair and alumnus Welcome W. Wilson Sr. will be in attendance to share his stories from past Frontier Fiesta events.
Mary Manning, assistant librarian and UH alumna (B.A. '98), is the exhibit's curator. She assembled exhibit items from the library's Special Collections and from selected materials contributed by the UH Alumni Association.  
"Frontier Fiesta has gone through many changes," Manning said. "It's definitely become more diverse and family friendly. This exhibit aims at capturing Frontier Fiesta's different periods and showcasing its role as an event that is entertaining and philanthropic."
Among the items Manning selected for the exhibit are photos shot (but not used) for the  a 1958 Life Magazine article and a denim jacket embroidered with the Tombstone booth design worn by "Chief" L.S. Mitchell. Other artifacts include articles and photos from the Daily Cougar newspaper and Houstonian yearbook. Specific display cases are devoted to aspects of Frontier Fiesta including the once-popular beard growing competition and the event's parade.
"In its earliest years, Frontier Fiesta was a huge deal on campus and in the community. In the 1950s, a Frontier Fiesta event made more than $100,000. In today's dollars, that is close to a million dollars," Manning said. "The event went away for a while, but it's back and growing. We're pleased to offer both current students and alums a closer look at this University tradition."
For more details on "Frontier Fiesta: The Greatest College Show on Earth," visit this UH Libraries blog article.
---