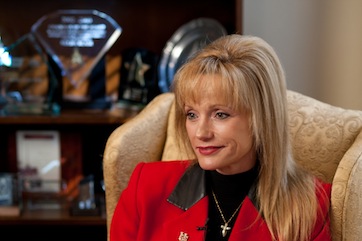 Nelda Luce Blair's leadership skills and business acumen were put to good use during her time on the University of Houston System Board of Regents. Now, the UH alumna will contribute her talents to the Texas Economic Development Corporation (TEDC).
Texas Gov. Rick Perry recently appointed Blair to the TEDC. The corporation supports programs and activities of the Governor's Division of Economic Development and Tourism, in addition to TexasOne, which markets Texas competitively and dynamically to businesses outside the state's borders.
Perry appointed Blair to the UHS Board of Regents in 2008. She was twice elected to the position of board chair (in 2011 and 2012) and served in that role until 2013 – the year her term on the UHS Board of Regents expired. Before being elected as the board's chair, she served as its vice chair. She also held several committee positions including chair of the Academic and Student Success Committee; vice chair of the Facilities, Construction and Master Planning Committee; board liaison for Governmental Relations; and member of the Executive and Compensation Committee.
An alumna of the UH Law Center, Blair continues to contribute her time and energy to supporting her alma mater. She is a member of the UH Board of Visitors, a group of business and civic leaders dedicated to enhancing University partnerships and strengthening its presence in the region.
Blair is president and owner of The Blair Law Firm, P.C., and is certified by the Texas Board of Legal Specialization in real estate law. She is a member of the State Bar of Texas, Greater Houston Partnership, The Woodlands Economic Development Partnership, Texas Conference for Women Advisory Board, and Lone Star College System Chancellor's Advisory Council. Blair also serves as president and board chair for the Conroe Independent School District Education Foundation, a board member for the Greater Houston Women's Chamber of Commerce, and an affiliate member of the Houston Association of Realtors. She is also a member and past chairman of The Woodlands Area Chamber of Commerce, founding board chairman of The Woodlands Convention and Visitors Bureau, past board member of the Greater Conroe/Lake Conroe Area Chamber of Commerce, and past chairman and past board member of The Woodlands Township.
Blair has been named a "Hometown Hero" of The Woodlands, one of "Houston's Most Influential Women of 2009" by Houston Woman magazine and "Citizen of the Year 2009" by the Greater Houston Women's Chamber of Commerce. A noted attorney, Blair's legal expertise has been showcased on CNN, MSNBC, FOX News and Court TV.
She holds a Doctorate of Jurisprudence from the UH Law Center and a Bachelor of Arts from Baylor University.
---