The University of Houston System Board of Regents recently welcomed its newest Student Regent Asit Shah. He was officially sworn in during the Board's June 17 meeting.
Shah, a junior at UH, was appointed by Texas Gov. Rick Perry to serve a one-year term that began this month. He replaces outgoing Student Regent Benjamin Wells, whose term recently expired.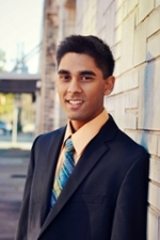 "The University of Houston System is growing and continuously meeting new benchmarks," Shah said. "My primary focus will be to continue supporting the growth of the System institutions and to support initiatives that strengthen student success."
As Student Regent, Shah will serve on the Board's Academic and Student Success Committee, and Facilities, Construction and Master Planning Committee.
Shah is majoring in both finance and supply chain management. He also is a student in the University's Honors College. At UH, he is a member of the Energy Association and a co-coordinator for the Honors Advocates, a volunteer organization that recruits and welcomes new students to UH's Honors community. He also has served on the Undergraduate Admissions Review Committee. Shah is a co-founder of Knowledge Solutions, LLC, a company that provides guidance to students transitioning from high school to college. He graduated from William B. Travis High School in Richmond, Texas.
Shah is a third generation Cougar. His grandfather and mother attended the University. Also, his professional mentor is a UH alum. Soon, his younger sister will join him at UH.
"More than anything, I am excited to serve UH System students in this capacity," he said. "My grandfather immigrated to the U.S. from India back in the 1970s to pursue graduate studies in civil engineering at UH. Now, I am here. This opportunity is a way for me to give back to the UH System and to help create a bright future for generations to come."
In 2005, Texas Gov. Rick Perry signed legislation directing each public university's board of regents to include one non-voting student member. In 2007, the governor signed legislation creating a student representative position on the Coordinating Board.
"We're excited to have Mr. Shah join us on the board," said UH Board of Regents Chairman Jarvis V. Hollingsworth. "Our Student Regents have always done a fantastic job. He already is asking hard questions on behalf of the students, and that is the perspective we expect. Student Regents should keep the board aware and cognizant that our decisions impact students throughout the system. So far, he is doing just that."
For more details on the UH System and the UH System Board of Regents, visit http://www.uhsa.uh.edu/.
---