Leading a healthy lifestyle goes beyond exercising, though that's a good start.  Starting July 14, 40 girls will focus on health inside and out. They're participating in the annual BOUNCE Summer Camp at the University of Houston.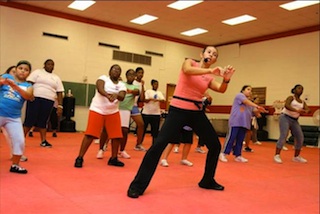 The four-week camp features special workshops on inner beauty, goal setting, leadership and self-esteem, and also fun exercises like Zumba, kickboxing and Hip-Hop dancing. The girls also will learn about nutrition, portion control and healthy recipes. Registered dieticians, fitness experts and child psychologists lead the sessions.
"Our goal is to encourage minority adolescent girls to feel good about themselves, inside and out, and we want them to have a lot of fun on that discovery," said Norma Olvera, associate professor of health education and BOUNCE executive director.  "They are at a critical age when they begin to decide what they'll value and believe in. We want them to make good, healthy choices."
Housed in the UH College of Education, BOUNCE (Behavior Opportunities Uniting Nutrition Counseling and Education) is intended to reach Hispanic and African-American middle school girls, populations with higher rates of obesity and a prevalence of overweight adolescents.
Olvera researches how family, environment and culture affect diet and physical activity.  To that end, the BOUNCE camps feature a component for moms and dads, so that the whole family can learn about healthy lifestyles.
"We want these lessons to become sustainable, healthy lifestyle choices," Olvera said.  "If everyone learns, there is greater chance of success."
BOUNCE is sponsored by Coca-Cola and Dasani. 
WHAT: UH College of Education BOUNCE Summer Camp
WHEN: 9 a.m. – 3 p.m., July 14 – August 8
WHERE: UH College of Education and location across campus
For directions and parking information, click here.
---