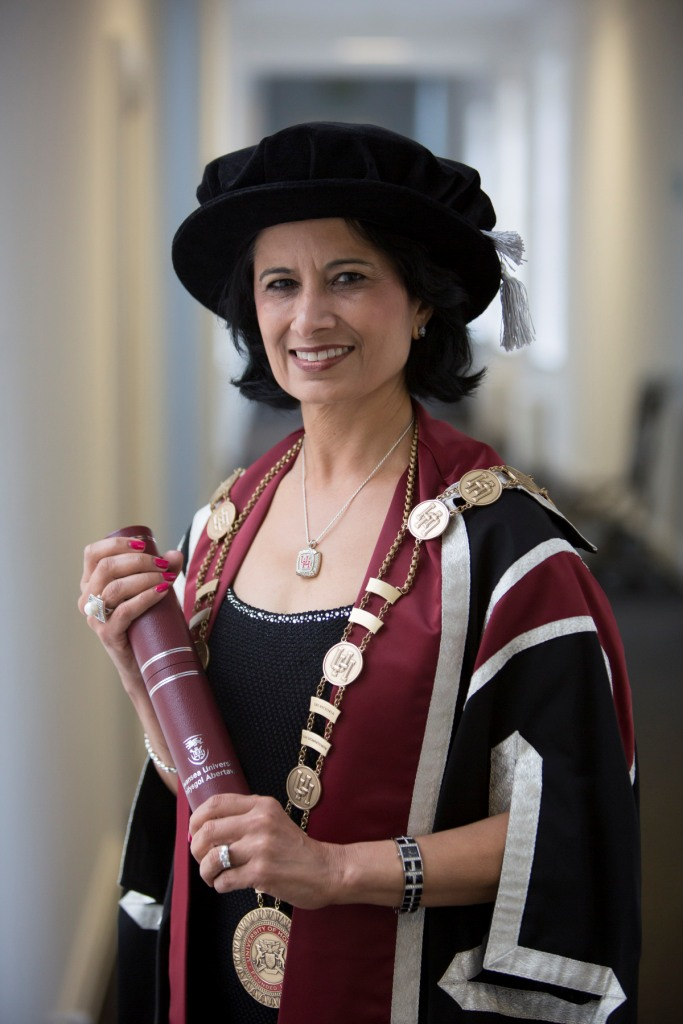 University of Houston President Renu Khator has been awarded an honorary degree by Swansea University, a world-class public research university in the United Kingdom.  She was presented the award July 16 during a ceremony held on the campus in Wales.
"I am doubly honored to receive this award from Swansea University. It is certainly gratifying for me on a personal level, and it also salutes the collective accomplishments of the University of Houston, which I've been so fortunate to lead," said Khator. 
Swansea and UH recently signed a Memorandum of Understanding (MOU) to develop wide-ranging collaborations between Swansea's College of Medicine and UH's College of Education. The MOU also will create strategic academic partnerships between UH's Graduate College of Social Work and Swansea's Colleges of Law and Health and Human Sciences.
"This recognition is especially satisfying because our two universities share so much in common," said Khator. "We were both founded in the 1920s, and we both emphasize the student experience and empowering our communities." 
While accepting the honor, Khator noted that both universities have "taken tremendous strides forward to become internationally competitive research institutions." Swansea University was named the UK's 'University of the Year' in 2014, and the University of Houston was designated a Tier One national research institution by the Carnegie Foundation in 2011. 
"Our growing collaboration will be of mutual benefit to both universities — to both our countries and to the world.  I accept this award in large part as a confirmation of the importance of that partnership."
---