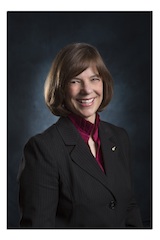 The Houston metro area ranked fourth in a new listing of the nation's top places for graduates working in fields related to science, technology, engineering and math (STEM).
NerdWallet, the financial literacy website that published the study, noted the University of Houston STEM Center as a factor in the ranking. NerdWallet indicated the center "helps attract and retain students in STEM careers, both locally and nationally."
"We're deeply honored by the recognition," said Professor Bonnie J. Dunbar, director of the UH STEM Center, as well as director of the University's aerospace engineering program. "It is our intent to try to meet the challenge of increasing the number of engineers and scientists in this nation."
The San Jose, Calif. area in the heart of the Silicon Valley, was ranked No.1, for its average STEM wage of $111,746 and the thousands of technology companies located there.
The Seattle area was ranked No. 2, and the Washington, D.C. area was ranked No. 3. The San Francisco area came in at No. 5.
The Houston-Sugar Land-Baytown metro area was noted for an average STEM wage of $94,766 and a relatively low cost of living. The study said major industries included advanced manufacturing and technology, aerospace, biotechnology and life sciences, as well as energy.
The Austin metro area ranked No. 6; Dallas, the only other Texas metro area in the top 20, ranked No. 11.
Despite high pay and booming demand for people with engineering and other technical skills, there aren't enough to meet the demand. A 2012 report from the President's Council of Advisers on Science and Technology identified one reason – most students who enter college intending to major in a STEM field end up dropping out. Dunbar, a former member of the U.S. astronaut corps, said that's one place the UH STEM Center can make a difference.
The STEM Center this spring received a $1.5 million grant from the Howard Hughes Medical Institute  to redesign introductory courses in chemistry, biology, physics and math. The goal is to make the material more engaging in order to encourage students to stay the course in challenging STEM majors.
The ranking was determined by taking the annual mean wage for STEM jobs, according to the Bureau of Labor Statistics, 25 percent; median gross rent, according to U.S. Census Bureau American Community Survey, 25 percent; and STEM jobs as percentage of all occupations, according to the Bureau of Labor Statistics, 50 percent.
For more on the study, see http://www.nerdwallet.com/blog/cities/economics/best-places-stem-graduates/.
For more information about the UH STEM Center, see uh.edu/stem/ or on Facebook, www.facebook.com/UHSTEM. On twitter, @UH_STEM_Center.
---