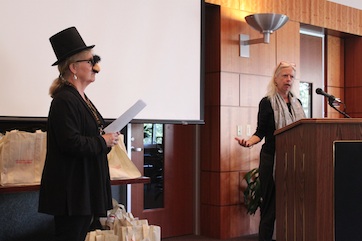 Each summer, students of all ages head to the University of Houston for camps aimed at arts, sciences, athletics and other disciplines. Thanks to the University's Honors College and the John P. McGovern Foundation, area teachers also can retreat to Cougar Country for two weeks of insightful seminars.
The college's Common Ground Teachers Institute is a two-week professional development program delivering seminars, readings by professional authors and workshops to Houston teachers. Led by faculty from UH and other institutions, Common Ground offers teachers new ideas to take back to their classrooms. It also provides an opportunity to refresh their perspectives on teaching and literature. This year's institute celebrates its 25th year. Seminars run through July 11.
"The hallmark of Common Ground is respect for teachers and teaching," said William Monroe, dean of the Honors College.  "All the participants love literature – that's a given – and we respect each other's work, whatever the grade level."
2014 Common Ground topics and instructors include:
"Adolescence and Alienation: Can Books Heal the Wounds?" – William Monroe, professor of English at UH and dean of the Honors College
"The Public School Experience" – Merilee Cunningham, associate professor of English at UH-Downtown
"Bending and Blending the Rules: A Workshop on Multigenre Writing" – Sara Cooper, Writers in the Schools
"Self and Other: The Stories that Bind Us" – Robin Davidson, associate professor of English at UH-Downtown
"Money: The Root of Evil?" – Romanus Muoneke, associate professor of English at the University of St. Thomas
Authors sharing works during the institute include founding Honors College dean Ted Estess, Dr. Sybil Estess, Robert Liddell, Robert Cremins, Sara Cooper, Robin Davidson, and Peter Hyland.
Each year, teachers apply to this popular program. Selected educators attend Common Ground at no cost and receive a book stipend thanks to underwriting from the McGovern Foundation.  To learn more about the Common Ground Teachers Institute, visit the program's website.
"Student success doesn't depend on formulas. It depends on the development of a community led by a dedicated teacher," Monroe said. "This is our 25th year of Common Ground. We keep doing the institute because good teachers deserve to have intellectual excitement in their lives."
---