An immigration lawyer. A public servant.  A business person. A community activist. The dreams of four University of Houston students take shape with an opportunity to follow in the dreams of the late-Congressman Mickey Leland.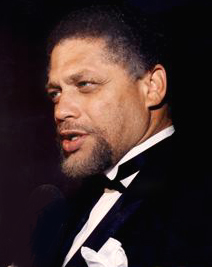 The four will be traveling to Washington, D.C. to work in the offices of Texas lawmakers as part of the UH Leland Fellows program.  Directed by the UH Hobby Center for Public Policy (HCPP), the Leland Fellows program gives students first-hand experience in the nation's legislature as interns in the U.S. Senate and House of Representatives. 
"Whether it is in knowledge of government, professionalism or maturity, the growth that often occurs within each student after a semester on Capitol Hill can be astonishing," said HCPP associate director Renée Cross. "The students frequently depart for Washington as bright, eager students, and they return to Houston as accomplished and confident young professionals ready to take on the world."
The four are:
•    Victoria Ellington—a political science major and philosophy minor who will spend the semester in U.S. Rep. Pete Olson's office.  She hopes eventually to work full-time in public service.
•    Mandy Gordillo —a political science major and business administration minor who will intern in U.S. Rep. Gene Green's office.  She aims to pursue a law degree and focus on family and immigration law.
•    Aidé Meza—a political science major and business administration and Spanish minor, who will be working in the office of U.S. Rep. Sheila Jackson Lee.  Meza has goals of pursuing law school. 
•    Cynthia Milian— a political science and Spanish major, who hopes to pursue a career in public service. She will be interning in the office of U.S. Rep. Ted Poe.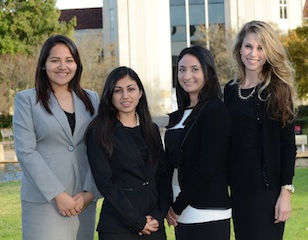 "While working in Congresswoman Lee's office, I'll be proactive in researching bills that pertain to the issues of access to healthcare and education reform," Meza said.  "The continuing exploration of these areas will assist my professional goals, since I would like to continue working in their development in the future."
Junior and senior students must apply to the program and show achievement in academics, writing ability, communication skills and community service.  As a Leland Fellow, students will live in Washington, D.C. during the spring semester. The program provides a monthly stipend, paid housing and round-trip airfare. They will work a minimum of 40 hours per week in their lawmaker's office, while completing course seminars and assignments. 
"This is the greatest opportunity for my education and career," Gordillo said. "As a political scientist, I will be embarking on a journey involving politics and policy making, and I have been given the opportunity to see our government at work first-hand in Congress!"
The program began as a way to provide opportunities for students who couldn't afford to quit their jobs in exchange for unpaid internships. 
"Growing up in the Fifth Ward and attending college locally at Texas Southern University, it wasn't until Mickey served in the Legislature, and later Congress, that he had the opportunity to see the world through travel, to personally grow, take on challenges and expand his horizons," said Alison Leland, wife of the late U.S. congressman. "He created this program because he wanted our students to have the same chance, and thought it important that they experience living in Washington, D.C. and working on Capitol Hill."
Mickey Leland was killed in a plane crash while on a humanitarian trip to Ethiopia in 1989. 
Students will leave for Washington D.C. on Jan. 9 and report for work on Jan 13.  
"Mickey would be enormously proud that his vision continues in the exceptional students who have been selected to be 2014 Leland Fellows," Leland said.
For more information on the UH Leland Fellows program from the Hobby Center for Public Policy, visit
http://www.uh.edu/class/hcpp/interns/leland-fellows/index.php
.
---