Beginning Friday (Jan. 31), UH will play host to the 2014 Cougar Cup Wheelchair Rugby tournament, featuring eight teams from as far away as Calgary and Switzerland.
"It's just like ultimate demolition derby.  Just push as fast as you can, and hit as many people as you can. I love this sport," says Michael Peacock, a wheelchair rugby player from League City, Texas.
Peacock was a recent participant in wheelchair rugby events hosted by Adaptive Athletics @ UH, a University of Houston Department of Health and Human Performance student organization, which aims to create a UH athletics program for students with disabilities. The group began in 2013.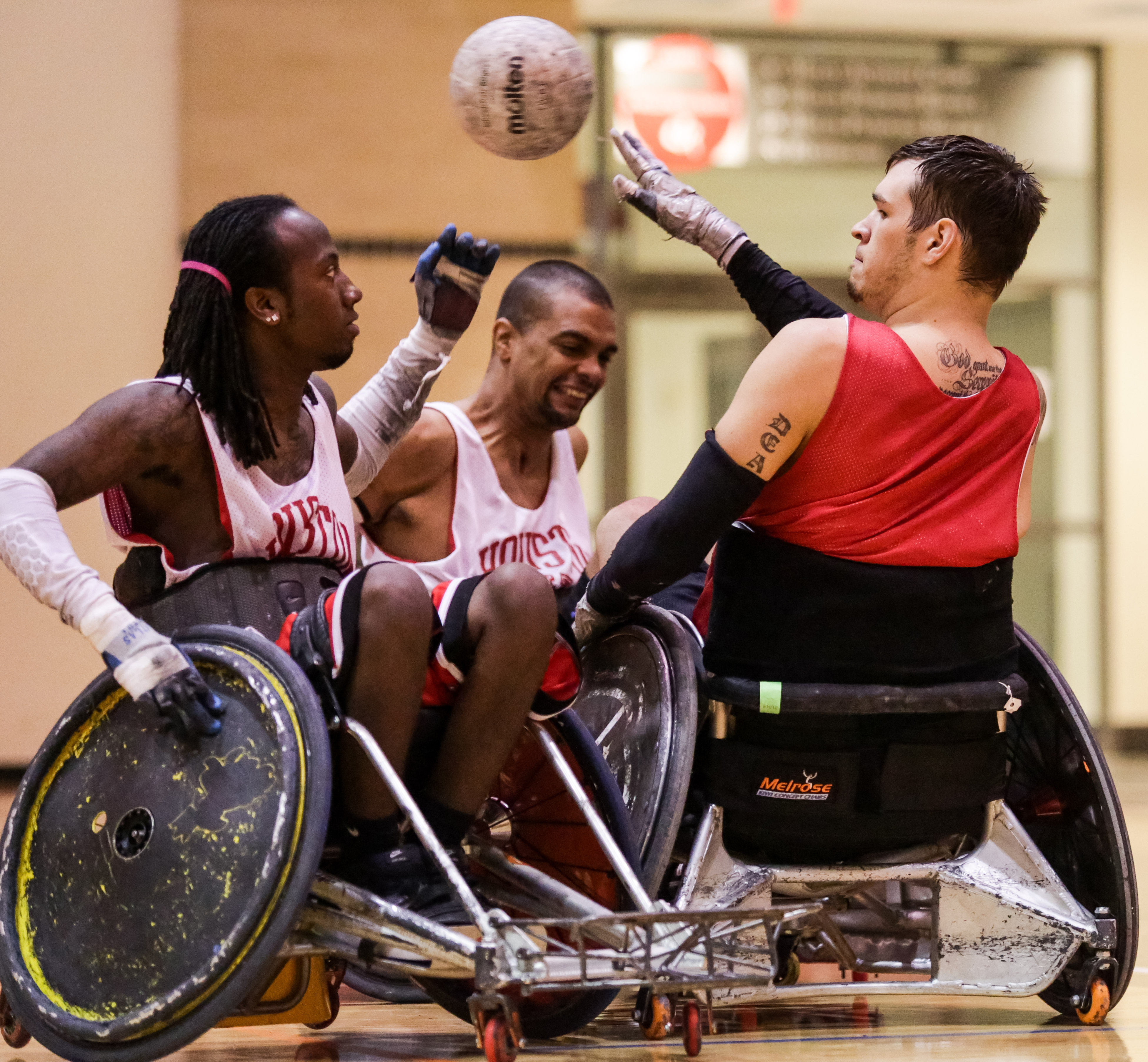 "The intensity is the biggest comparison, because you can't be afraid.  Just like in (traditional) rugby, where you have no pads, you can't be afraid to make a big hit. It's the same in our sport. You can't be afraid to make that big play," says Ryan Gilmer, a wheelchair rugby participant from Spring, Texas.
Michael Cottingham, an assistant professor in the UH Department of Health and Human Performance, serves as the faculty adviser for the student organization. Cottingham also focuses his research on perceptions of athletes with disabilities as well as spectatorship and sponsorship in disability sport. He says wheelchair rugby provides many different benefits to the athletes. 
 "For individuals who are newly injured, this is an opportunity to engage in the rehabilitative process— relearning how to live life, going through the process of getting ready to compete and managing their chair and equipment— this is really a gateway to living an independent life," says Cottingham.  
Peacock has been playing for 10 years. He discovered wheelchair rugby shortly after he got hurt after high school.
"I was playing football back then and came right into this sport, which is full contact as well," said Peacock.
For Gilmer, the sport motivated him in the recovery process. 
 "When I first got hurt, I found about this wheelchair sport and I was like, 'I want to play. What do I have to do to get better, from right now, to get onto that court?' I was in a power chair, I had a neck brace on … I can remember telling my father, 'Dad get this neck brace off, cause I want to get out there," says Gilmer.
Cottingham says the sport is not only a good fit for those going through the rehabilitative process, but also elite athlete who are looking to make the paralympics.
"Each athlete is given a classification of disability, which determines their functionality and injury level.  Some athletes with less function are paired as teammates with athletes with higher function in order to make a balanced lineup. Depending on the athlete's function level, they have a very different role on the floor," said Cottingham.
Wheelchair rugby is only for quadriplegics, says Gilmer. Cottingham says the sport was created by quadriplegics as an alternative to wheelchair basketball.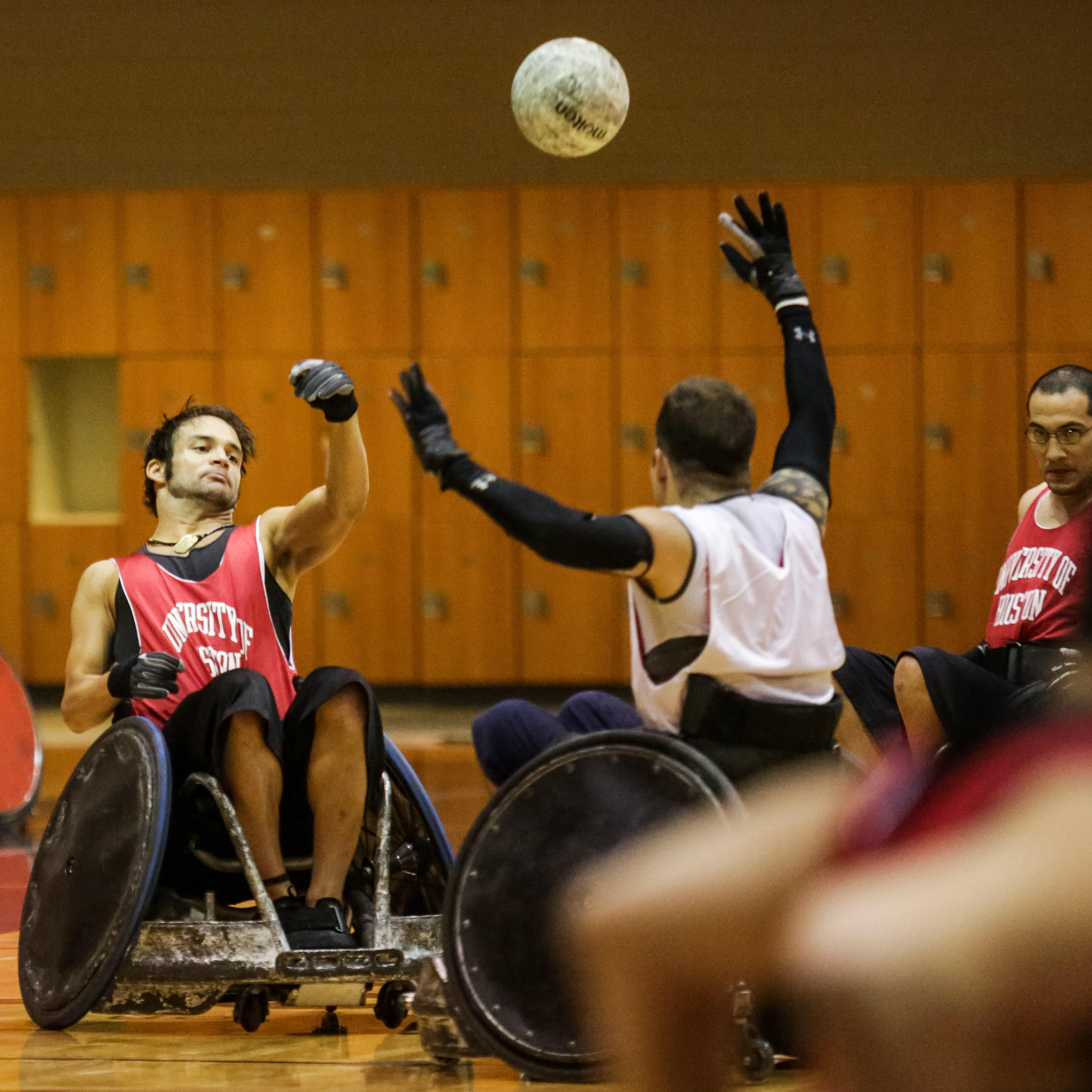 "In the 1970s and 1980s, paraplegics and amputees played wheelchair basketball as well as quadriplegics. However, the quadriplegics were not particularly competitive due to their physiological limitations. So, they created their own sport and modified it quite substantially and came up with the sport of wheelchair rugby," said Cottingham.
Cottingham says there are eight universities that currently have highly competitive wheelchair basketball teams. There is only one university that has a wheelchair rugby team.
"We really would like to become the second program and the pre-eminent school in wheelchair rugby," explained Cottingham, who was instrumental in establishing the only collegiate program in existence, which is at the University of Arizona.
"I'm very excited for him to be here at the University of Houston," Peacock says of Professor Cottingham. "He is developing new players and giving the individuals that have the disability a chance to play."
Cottingham says disability is often times perceived as fragility, but that is not the case.
 "This sort of hyper-aggressive sport is a great juxtaposition to that," says Cottingham. "It says the athletes aren't fragile— they can get beat up a little bit. It's okay to be competitive and aggressive. I think it breaks a lot of those barriers and those stereotypes." 
Spectators can watch these athletes in action Jan. 31 – Feb. 2 in the University of Houston Campus Recreation and Wellness Center. The event is sponsored by TIRR Memorial Hermann and the UH Division of Student Affairs, and hosted by Adaptive Athletics @ UH.  
---