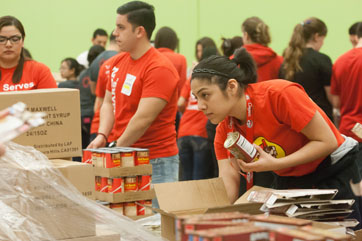 Nearly 200 Coogs contributed their time and energy to help Houston's hungry on Saturday.
The University of Houston commemorated the message of Martin Luther King Jr. with a Day of Service on Feb. 1. Volunteer Cougars spent a good portion of their day helping sort and pack food at the Houston Food Bank.
Wearing their best red UH apparel, volunteers worked to assemble bundles of food for the Food Bank's "Backpack Buddy Program" – benefitting children who rely on low cost or free school lunches as their main source of meals.
Faculty, staff, students, friends and families packed the Food Bank's assembly facility. From senior administrators to staff members' children (some as young as 6-years old), these Coogs had plenty of work to do. But, with upbeat, fun music piped into the assembly room, the vibe felt more like a party than an assembly line.
"This says a lot about the Cougar Nation," said Susie Molina, UH director of community relations. "UH departments and groups have worked with the Houston Food Bank before, but this may be the first university=wide effort."
Brian Greene, Houston Food Bank president and CEO, was pleased with the support and overwhelmed by the amount of red in the facility.
"There's a lot of red shirts here," Greene said. "This is really impressive. When you get this many people out on a Saturday morning … early on a Saturday morning …coming out to make a difference in the community, it's really great."
While the MLK Day of Service offered Coogs a chance to unite for a good cause, Greene said the Houston Food Bank's doors are always open to the UH community.
"We're running six days a week, from 1 to 2 p.m. on Sundays, and even evening shifts," he said. "Whatever works within your schedule, we can accommodate you."
While volunteers helped make a difference for city students, they also started brainstorming about other ways UH can collaborate with the Houston Food Bank. Andrew Hamilton, associate dean of UH's Honors College, and three of his students began a conversation on how UH's resources could benefit Houston's hungry. One idea they devised was contributing items from the University's Community Garden to the Houston Food Bank. It was this discussion and several learning moments that occurred to both Hamilton and his pupils, that made the Day of Service even more rewarding.
"As a faculty member, I can do so much to help the community," he said. "My job is to educate the students, and they are receiving a real education here today."
Some of UH's greatest resources are its people, said UH Student Government Association President Cedric Bandoh. Through the Cougar community, UH can continue to enhance Houston through volunteer efforts such as the one undertaken at the food bank, he said.
"It's important," he said. "Universities have many resources including its faculty, staff and alumni. It's important that we use these resources and give back to the community. This is a great example of UH's generosity and how it gives back to Houston."
Visit this link or use the audio player below to hear a podcast focused on UH's MLK Day of Service. 
---