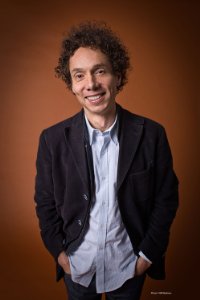 Who and what is a sociologist? A new undergraduate course taught by Shayne Lee, associate professor of sociology, will focus on the writings of journalist and best-selling author Malcolm Gladwell in order to delve into the nature of the scientific study of human social relationships and institutions through the lens of popular culture consumption.
Gladwell, a staff writer at "The New Yorker" since 1996, is the author five "New York Times" best-seller books: "The Tipping Point: How Little Things Can Make a Big Difference", "Blink: The Power of Thinking without Thinking", "Outliers: The Story of Success", "What the Dog Saw: And Other Adventures" and his most recent book, "David and Goliath: Underdogs, Misfits, and the Art of Battling Giants." 
He has increased his popularity beyond the mass consumption of his books through savvy use of social media and connection with the nonprofit TED, which produces the now ubiquitous TED Talks videos and annual conferences that can turn academics into social media superstars.
TED describes Gladwell as a "detective of fads and emerging subcultures, chronicler of jobs-you-never-knew-existed, Malcolm Gladwell's work is toppling the popular understanding of bias, crime, food, marketing, race, consumers and intelligence."
Lee says Gladwell's ability to shape and redirect popular understanding of sociology concepts makes his work an excellent framework for exploring how human action and consciousness shape and are shaped by cultural and social structures.
"Students will assess how the 'Gladwellian' perspective confirms and challenges established social theories and offers intriguing new insights for the discipline of sociology," said Lee. "It places the contributions of a pop cultural superstar like Gladwell in conversation with prominent sociologists of the past and present, posing new questions concerning who and what is a sociologist."
Lee notes the goal of sociology as a discipline is to go beyond assumptions about life to form theories and insights based on a more critical evaluation of human conditions. That goal is similar to how Gladwell uses scientific research to dispel well accepted assumptions or to start a new conversation on other ways to think about how humans engage in their social surroundings.
He said Gladwell's book, "Outliers," is the best example of the writer's skill at inspiring others to think more critically about social realities.
"Most people are curious about how or why certain people achieve extraordinary levels of success while others fall short. In the case of 'Outliers,' Gladwell paints a complex picture of how people achieve success," Lee said. "On the one hand, he emphasizes how agency and culture play crucial roles in providing people with tools to advance in their pursuits. In this way, he explores how hard work, good communication skills, strategic planning and other crucial factors can make or break opportunities for success.
"He uses scientific data collected by leading social scientists and intriguing stories throughout the book to present a complex picture of how the achievement of success cannot be reduced to a simple formula. So students then are able to see how scientific research can be relevant toward seeing how the world works and in understanding their place in that world."
Lee was inspired to design the course, "Malcolm Gladwell's Sociology," after he assigned "Outliers" in other courses and several students told him the book had "changed their lives."
"Scholar texts don't have nearly the same impact on teaching students to think more sociologically than 'Outliers,' said Lee. "Hence, it is my contention that Gladwell's works make people more informed about the nuances and complexities of the human condition."
###
About the University of Houston
The University of Houston is a Carnegie-designated Tier One public research university recognized by The Princeton Review as one of the nation's best colleges for undergraduate education. UH serves the globally competitive Houston and Gulf Coast Region by providing world-class faculty, experiential learning and strategic industry partnerships. Located in the nation's fourth-largest city, UH serves more than 39,500 students in the most ethnically and culturally diverse region in the country. For more information about UH, visit the university's newsroom at http://www.uh.edu/news-events/
---