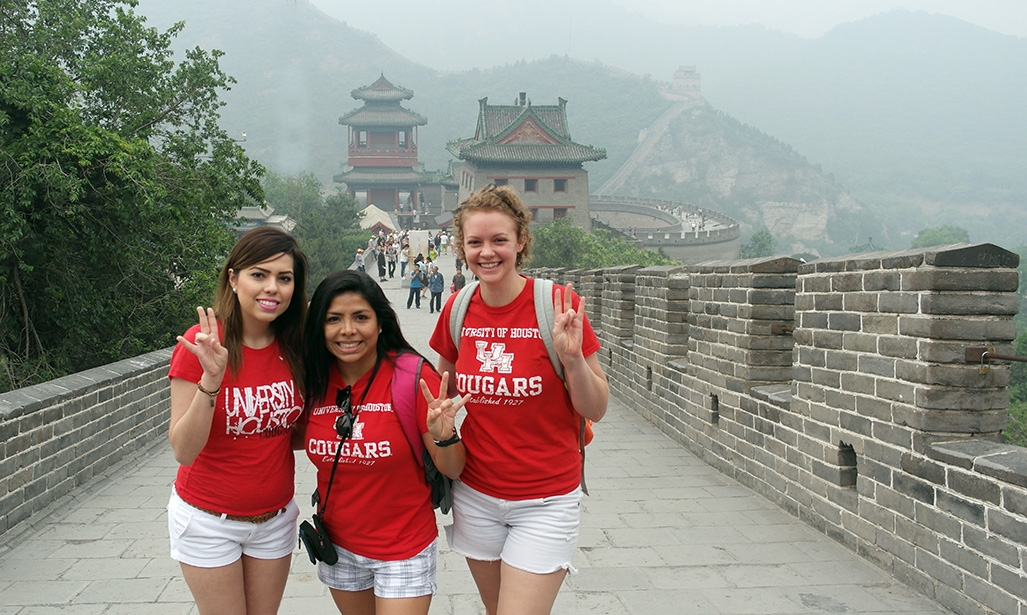 University of Houston senior vice president for Academic Affairs and provost, Paula Myrick Short, approved a University commitment of up to $200,000 to increase the existing funding for study abroad programs to be issued during the 2014 - 2015 academic year. Scholarships are the single most important variable to entice students to study abroad.
"One of the largest obstacles students face when deciding whether or not to include study abroad as part of their education is the cost. At UH, 60 percent of students at all levels are dependent on some sort of financial assistance. When the University committed to double the number of students going abroad over the next five years, bridging the gap between the two became imperative," said Short.  "With the availability of meaningful scholarship awards, we expect to see an increase in the number of students graduating with a study abroad experience."
UH will still make available the amounts collected out of the Consolidated University Services Fee that make up approximately $100,000 bringing the total amount available for study abroad scholarships to $300,000 per academic year. The scholarships can be applied to faculty-led programs, reciprocal-exchange programs, or a third-party affiliate programs and are immediately available through the Office of Study Abroad.  
"The experience attained by students participating in an academic or non-academic experience abroad is a practical imperative," said Jaime Ortiz, vice provost of Global Strategies and Studies in Academic Affairs at UH. "Students acquire skills and maturity that enables them to become multicultural individuals, well-equipped to be contributors to an increasingly globalized world. The possibilities of where students can go are endless."
The deadline to apply for summer and fall 2014 study abroad programs is May 1, 2014. For more information, please visit the UH Office of Study Aboard, 501 E. Cullen Building, Room 501, 5th Floor or visit www.uh.edu/studyabroad
# # #
About the University of Houston
The University of Houston is a Carnegie-designated Tier One public research university recognized by The Princeton Review as one of the nation's best colleges for undergraduate education. UH serves the globally competitive Houston and Gulf Coast Region by providing world-class faculty, experiential learning and strategic industry partnerships. Located in the nation's fourth-largest city, UH serves more than 39,500 students in the most ethnically and culturally diverse region in the country.
---