More than 700 student-teachers are expected to converge on the Hilton University of Houston—resume in hand—for the Houston Area Teacher Center (HATC) annual Teacher Job Fair. Students from eight area universities will participate. They'll meet representatives from 34 area school districts.
The event is planned from 1 -3 p.m., Friday, April 11 in the Conrad Hilton Ballroom.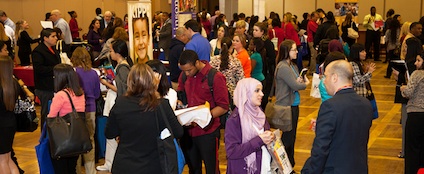 "Our school district partners have assured us that the teacher job market has recovered from the dip it took over the last couple of years following district budget cuts," said University of Houston College of Education Professor Melissa Pierson. "There are now hundreds of job openings. Our graduates are in a great position to be hired."
Pierson added that applicants with expertise in bilingual education, special education, math and science always are in high demand. 
Prior to the job fair, student-teachers will participate in a Houston Area Student Teaching Conference that will include a panel discussion from area principals, workshops on various aspects of classroom lessons and management, resume and interview strategies, using technologies, and assessing the needs of special learners on both ends of the learning spectrum.
"Twice a year the UH College of Education hosts representatives from local, state and national school districts to meet with our graduating teacher-education graduates," said Professor and Dean Robert McPherson. "The energy and excitement during this event is like residency Match Day for medical students. Many of our students receive job offers on the spot at both our fall and spring career fairs." 
The Houston Area Teacher Center (HATC) is a consortium of more than 30 Houston-area school systems and the University of Houston College of Education. Founded in 1970, HATC is the oldest and largest teacher center in the nation and serves as a forum to collaborate on solutions to issues such as teacher supply and demand, teacher quality, policies and procedures for the placement of student teachers, and working with partner schools.
For more information, visit http://atlantis.coe.uh.edu/hatc/registration.cfm
WHAT: Teacher Job Fair hosted by the Houston Area Teacher Center.
WHEN: 1 – 3 p.m., Friday, April 11
               8 a.m. – noon, Teacher Conference 
WHERE: Hilton University of Houston, Conrad Hilton Ballroom
For directions and parking information, visit http://www3.hilton.com/en/hotels/texas/hilton-university-of-houston-HOUUHHF/maps-directions/index.html
---