A group of University of Houston students has gained the attention of the national bone marrow registry organization, Be The Match, because of its actions to raise awareness of the critical need for donors. 
"You feel like this is really something that makes a difference," said Niyati Vaidya, a health education major and treasurer of the Be The Match-University of Houston. "Just the words 'bone marrow' can sound scary to people."
Be The Match is a bone marrow registry of potential donors for people with leukemias, lymphomas and other blood cancers. For many living with those diseases, a bone marrow transplant is their only lifesaving option as more than 70 percent cannot find a donor match in their own families.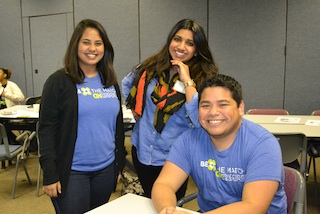 Vaidya, Harry Nguyen and others debuted Be The Match-University of Houston in fall 2013 with a goal of registering 250 people in their first year. Within the first six months, they had registered more than 1,400. Leveraging the supporters of other established organizations, they quickly found a foothold.
"We tried to affiliate with other UH organizations to support us by hosting drives. The more supporters we have, the more people we can reach out to," said Nguyen, vice president of Be The Match-UH.
Be The Match-UH is the organization's first university chapter, but already has prompted seven other area colleges to debut their own. Additionally, the UH efforts have yielded 12 donor matches to date.
"My expectation for them was to have a couple of drives, maybe a fundraiser on campus, but they have surpassed my expectations," said Tracie Benton, manager of community engagement for the Marrow Donor Program of the Gulf Coast Regional Blood Center. "They have had recruitment events and a fundraiser every two weeks. They are truly amazing young adults."
Recently, the student leaders from all of the university/college Be The Match organizations met for a leadership summit, something that only administrators from the national organization did—until now.
"Our thinking was that these students are leaders on their campuses and in their cities. They're building teams and working toward the same goal," Vaidya said. "The national organization agreed and decided to implement this student leadership summit in their other cities as well."
Both Vaidya and Nguyen are health education majors with an emphasis in health promotion.  The college of education program prepares students for careers in public and community health, health behavior research and program planning and delivery.  
"UH is a humongous campus, a diverse campus," Vaidya said. "If all of our 40,000 students would sign up to be on the registry, so many more people might have a second chance at life."
---