Sounds of "Pomp and Circumstance" will usher new graduates out of their academic career and into their professional life. Experts say it's a good time for graduates to be looking for a job.    
"Employers are expected to increase their rate of hiring by nearly eight percent," said James Mable, assistant director of University Career Services at the University of Houston. Mable also manages Alumni Career Services. "Companies will be looking to add more business, technology, engineering and communications majors to their payrolls.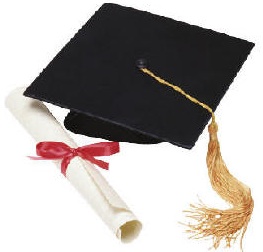 Mable quotes information from the National Association of Colleges and Employers (NACE), of which the University's Alumni and Career Services is a member, and the Greater Houston Partnership. 
Sectors leading the job creation are professional and business services, as well as oil and gas industries. In Houston, this covers such fields as business development, commercial sales, contract recruiting, software development, engineering, accounting and marking analytics. 
The NACE Salary Survey, which compiles information from recent college graduates, indicates the average starting salary is $45,473, up from the 2013 average salary of $44,928. While business graduates stand to earn highest starting salaries ($53,901), humanities and social science graduates can expect starting salaries of more than $38,000, up 3.5 percent from last year—the highest jump among disciplines. 
"In Texas the two hot job markets are McAllen, where auto plants in Mexico send vehicles for processing, and Austin where many technology companies are hiring," he said. "Additionally, because of Houston's hot residential real estate market, many construction firms are recruiting students to offset an overall labor shortage in that industry."
Resumes are still a valuable tool for new graduates, but knowing how to leverage that information is more so. Job boards and other technology are becoming the preferred way of connecting with new graduates, particularly job boards at university career services offices. 
"Employers are becoming more nimble in how they recruit by using the online career services job boards, LinkedIn and other social media resources," Mable said.  "In order for a quick transition from college to career, students and alumni should use these resources. The advantages are that these are exclusive to university students and alumni, not as competitive as public job boards and companies are specifically posting opportunities there to recruit students and alumni."
Mable advises graduates to participate in career fairs and attend with a plan: research companies that are attending, prepare questions about specific positions, distribute an updated resume and be prepared to interview for positions on the spot. 
"Your career services office can help with all of these things, from advice on layout and content of your resume to sharpening your interviewing skills to connecting you with employment opportunities," Mable said. "Even though a student's academic career has come to an end, his or her relationship with career services offices should become more evident, dynamic and urgent."
---