The University of Houston Hobby Center for Public Policy and The Honors College Phronesis Program in Politics and Ethics host author Charles Murray for a discussion on his New York Times bestselling book, "Coming Apart."
The event is planned from 5-7 p.m., Thursday, April 10 in the Honors College Commons. It is free and open to the public. An RSVP is requested and can be submitted here.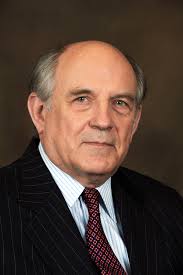 Murray is the W. H. Brady Scholar at the American Enterprise Institute. In his book, Murray discusses a divergence of American classes by focusing on changes in White, American upper and lower classes. He argues these changes have resulted in a segregated upper class, and a lower class that is losing sight of what he calls traditional American values.  
Murray also is the controversial author of the 1994 book "The Bell Curve: Intelligence and Class Structure in American Life."
 "Charles Murray has been an important voice in bringing to public attention the growing inequality in America and the emergence of a new underclass in society," said Jeffrey Church, associate professor of political science. "Over the past few years, the Phronesis Program and Hobby Center have partnered to invite speakers from across the ideological spectrum. Our hope is to deepen public discussion about the big political issues of our day. Murray is an excellent fit for our speaker series."
The Phronesis program, housed in The Honors College, provides students with the knowledge and tools to comprehend, analyze and evaluate the moral and political world in which they live. Taught by faculty from diverse disciplines and perspectives, students study seminal works of moral philosophy, classical literature and political theory, and discuss fundamental questions of ethics and politics. 
Established in 1981, the Hobby Center for Public Policy serves the Houston community as an impartial research organization within the UH College of Liberal Arts and Social Sciences.
The El Paso Corporation Lecture Series, formerly the Tenneco Lecture Series, brings to UH and the larger Houston community scholars, artists and policymakers who shape our world and broaden intellectual horizons. 
WHAT: El Paso Corporation Lecture Series, featuring author Charles Murray
WHEN: 5-7 p.m., Thursday, April 10
WHERE:  Rockwell Pavilion, 2nd floor of the M.D. Anderson Library
For directions and parking information, visit https://ssl.uh.edu/maps/buildings/?short_name=L
---