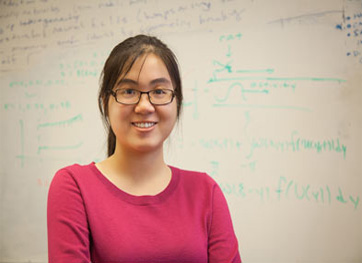 Performing brain research that can one day be applied to medical and technological advances, University of Houston (UH) junior Khanh (Kate) Nguyen has been recognized as one of the nation's top science students. A double major in mathematics and physics, Nguyen is among the 2014 recipients of the Barry M. Goldwater Scholarship.
One of the most prestigious awards available to undergraduate students, the Goldwater Scholarship provides funding to sophomore and junior students majoring in mathematics, the natural sciences or engineering with plans to pursue careers in research. With only one fourth of applicants selected to receive the honor this year, Nguyen was among 283 recipients selected from a field of 1,166 candidates.
As only the seventh student to receive a Goldwater Scholarship in UH's history, Nguyen will receive $7,500 for tuition, fees, books, and room and board for the 2014-15 academic year. Two other UH students – biology major Marisa Simon and physics major Christina Stegemoller – received honorable mentions this year.
"Kate's work ethic is among the most rigorous of any student I have seen," said Zachary Kilpatrick, her mentor and an assistant professor in UH's Department of Mathematics. "One of Kate's qualities that truly convinces me of her motivation and potential for a research career is her utter persistence. She has told me of the dense schedule she regularly keeps each semester and summer. I have noticed she thoroughly writes out specific questions she has about background reading or research problems, making sure they are answered in our regular meetings."
When Nguyen first learned about the mathematical biology major at UH, she became curious as to how mathematics contributed to biology and finds it fascinating to see how researchers can gain understanding of the brain using mathematical models. Her project with Kilpatrick concerns the brain's ability to represent spatial location and has helped her gain an understanding of the anatomy of the brain's networks that encode space.
"Eventually, this research may help us understand how the human brain is so effective at performing a wide variety of tasks on a daily basis. For example, understanding how we move our limbs could help doctors create better robotic prosthetics for people that behave much like real arms and legs. This could someday be applied by neurosurgeons to help patients regain motor control or sensation," Nguyen said. "Another application of understanding how the brain represents space could be to incorporate these principles into robotic cars. If cars know how to navigate the space around them, they may one day have the ability to drive to their destination without colliding into any other vehicles or objects. It would be exciting to think my research could be applied to technology to build less expensive robotic cars, ultimately leading to fewer car accidents."
Upon graduation, Nguyen has plans to pursue a Ph.D. in applied mathematics and continue working in the field of mathematical neuroscience, thanks to her work in Kilpatrick's lab. After earning her Ph.D., she hopes to be part of an interdisciplinary research team that studies the mechanisms that coordinate large-scale brain activity and applies these findings to medical and technological advances.
With each university only allowed to nominate four undergraduate students per year, competition to become a Goldwater Scholar is intense. So, Simon and Stegemoller's honorable mentions also are quite an accomplishment.
"The Goldwater Scholarship is a marker of the very best young scientists in America today," said Stuart Long, associate dean of undergraduate research and the Honors College. "When these students go on to apply for graduate school, having the Goldwater on their application will certainly capture the attention of admission committees."
Simon has always been interested in medicine and is interested in going into molecular medicine, specializing in cancer research. During her career, she hopes to help devise new targeted therapies for cancer, confirm their safety for human use through clinical trials and develop more effective preventative measures. She believes with hard work she will be able to help clarify some of the current unknowns about cancer.
"Creating new therapies for cancer is essential, especially since our current conventional therapies have limitations. For patients with poor-prognosis cancer, clinical trials with targeted therapies can be lifesaving. I'm working with the most severe subtype of breast cancer named triple-negative breast cancer," Simon said. "The research my mentor and I are doing is what I perceive to be the future of personalized cancer therapy. I know that my work here will set the stage for what I hope to accomplish later in my career."
Her mentor, assistant professor of biology and biochemistry Cecilia Williams, has made a great impact on Simon's career goals and aspirations.
"Dr. Williams has had an extremely strong influence on me. I see how much effort she puts into education and research, and it is really inspirational. She is a person I want to model my career after," Simon said. "Karen Weber with the Office of Undergraduate Research also gave me opportunities and resources I needed to initially get involved in cancer research. She introduced me to the Summer Undergraduate Research Fellowship, and through that I was able to discover cancer research firsthand and realize I wanted to make a career out of it."
With a B.A. and J.D. already under her belt, Stegemoller is now working toward a B.S. in physics, which will be her second undergraduate degree. At first pursuing a career as a finance attorney, she tried to satisfy her lingering curiosity in physics with public lectures, scientific papers and visits to museums. In time, however, she realized these after-hours adventures were simply not enough to satisfy her overwhelming desire to explore the sciences, so she embarked upon a new journey as a returning undergraduate student with aspirations of advancing the field of physics.
"I currently work with professor Lawrence Pinsky's Medipix research group in the physics department, where we are developing a series of active detector devices for use as dosimeters and area monitors in space radiation environments in Earth orbit, on planetary surfaces and in deep space," Stegemoller said. "Exposure to space radiation is a significant danger associated with human space flight, and these Medipix-based detector devices allow space radiation environments to be assessed in real time."
Ultimately intending to conduct research in experimental elementary particle or astroparticle physics, Stegemoller's hope is that these dosimeters will move researchers one step closer to interplanetary or deep space flight.
"Christina is certainly one of the most dedicated students I can remember," Pinsky said. "Being a physicist, or for that matter, any scientist, is first and foremost about being able to think clearly and see both the big picture and the small details at the same time. As an experimentalist, one becomes immersed in the minutiae of the present problem, but at the same time you can never be far away in your mind from the fundamental issues. That may well describe most successful people in any endeavor, and Christina has that ability."
The Goldwater Scholarship was established by Congress to honor the late Sen. Barry M. Goldwater, and recipients are chosen on the basis of academic merit. It's the premier undergraduate award of its type in the fields of math, natural science and engineering.
###
About the University of Houston
The University of Houston is a Carnegie-designated Tier One public research university recognized by The Princeton Review as one of the nation's best colleges for undergraduate education. UH serves the globally competitive Houston and Gulf Coast Region by providing world-class faculty, experiential learning and strategic industry partnerships. Located in the nation's fourth-largest city, UH serves more than 39,500 students in the most ethnically and culturally diverse region in the country. For more information about UH, visit the university's
newsroom
.
About the College of Natural Sciences and Mathematics
The UH College of Natural Sciences and Mathematics, with 193 ranked faculty and nearly 6,000 students, offers bachelor's, master's and doctoral degrees in the natural sciences, computational sciences and mathematics. Faculty members in the departments of biology and biochemistry, chemistry, computer science, earth and atmospheric sciences, mathematics and physics conduct internationally recognized research in collaboration with industry, Texas Medical Center institutions, NASA and others worldwide.
To receive UH science news via email, sign up for
UH-SciNews
.
For additional news alerts about UH, follow us on
Facebook
and
Twitter
.
---