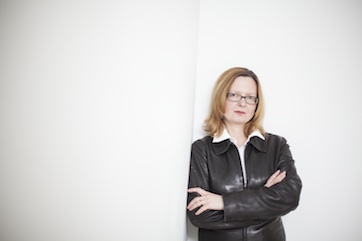 Each year, only the top scholars and artists in North America are selected as Guggenheim Fellows. Among the 2014 recipients of this prestigious fellowship is noted poet and University of Houston Creative Writing Program assistant professor Ange Mlinko.
Mlinko joined UH's Creative Writing Program faculty in 2010.  At the University, she teaches graduate and undergraduate courses in poetry and poetry criticism.
Her four collections of poetry – "Marvelous Things Overheard" (2013), "Shoulder Season" (2010), "Starred Wire" (2005) and Matinees" (1999) – have earned national acclaim and positive reviews.
The Boston Globe and The New Yorker named her latest book "Marvelous Things Overheard" one of the best poetry books of 2013. "Starred Wire" earned honors from the National Poetry Series and was a finalist for the Academy of American Poetry's James Laughlin Award. Her first book ,"Matinees," was named Best Book of 1999 by Publisher's Weekly. Other honors include the Poetry Foundation's 2009 Randall Jarrell Award for Criticism.
Before arriving at UH, Mlinko worked with students at Brown University, the Naropa University Summer Writing Program, and Al-Akhawayn University in Ifrane, Morocco. In addition to teaching, Mlinko is the poetry editor for The Nation.
The Guggenheim Fellowship will support Mlinko's creative endeavors as a poet. The honor, she said, is gratifying because it recognizes her own work and a support for her craft.
"It's an honor for me, and it is also an important acknowledgement of the art of poetry," she said. "It is a difficult art to do well, but it brings grace to people's lives; it pushes back against the impoverishment of spirit."
As an artist and educator, she has been particularly inspired by UH's Creative Writing Program, she added. Interacting with peers and pupils have contributed to her creative and professional growth, she said.
"The UH Creative Writing Program has been wonderful," she said. "I learn from my colleagues and students; their conversation has been invaluable. I encourage UH students to take our classes. Our professors are brilliant."
Awarded by the John Simon Guggenheim Memorial Foundation, the awards recognize the achievements of creative professionals and scholars. The foundation reviews up to 4,000 applications annually and selects approximately 200 finalists. This year, 177 fellows were selected.
"Winning a nationally competitive award, such as the Guggenheim Fellowship, is a recognition of  Ange Mlinko's professional achievement, and a judgment that she is engaged in important and innovative work," said J. Kastely, director of UH's Creative Writing Program. "The award is evidence of the high regard the literary community has for her work, and it is a testament to the power of her latest poetry collection."
---