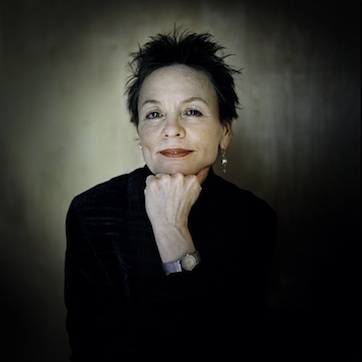 Laurie Anderson's work defies the conventions of art and popular music. The veteran artist has long embraced experimental approaches to stagecraft, performance, instrumentation and composition. Always on the cutting edge, Anderson has consistently earned acclaim and applause from fans and critics alike.
Her efforts also have received respect from her creative peers. Artists from various disciplines (dance, music, film, literature) have eagerly shared both stage and studio with her.
Soon, the groundbreaking artist and musician will visit the University of Houston to share her insights on artistic partnerships and discuss her experiences collaborating with a range of artists  (including Peter Gabriel, Lou Reed, William Burroughs, Wim Wenders, Jonathan Demme, Bill T. Jones, and Trisha Brown).
Anderson will deliver the second annual Mitchell Artist Lecture on Sept. 10 in UH's Moores Opera House (Entrance 16 off of Cullen Boulevard). Presented by the University's Cynthia Woods Mitchell Center for the Arts, the event kicks off with a reception at 6 p.m. and lecture at 7 p.m. The event is free, but reservations are going fast and must be made online. For more details or to make reservations, visit the Mitchell Center's website.
"Laurie Anderson defies every preconception and stereotype out there about experimental art," said Karen Farber, director of the Mitchell Center for the Arts. "She is successful, popular and brilliant, all while maintaining a cool-as-a-cucumber composure. Not only that, she is a female performance artist. For all of those young artists out there who think it isn't possible to succeed by cracking the gender and genre codes, simply observe the extraordinary and inspiring career of Laurie Anderson."
Multimedia and electronics are hallmarks of her work, but Anderson's skills as a spoken word artist also have earned much praise.
She broke into New York City's art scene during the 1970s. Performances such as "Duets on Ice" (featuring the artist playing violin in ice skates frozen into a block of ice) and recorded works secured her reputation as one of America's most innovative and adventurous artists.
In 1980, Anderson's electronic, spoken word track "O Superman (for Massenet)" became a hit in Europe (reaching No. 2 on the British charts) and introduced her to new audiences. During the 1980s, her multimedia concerts – featuring then unprecedented use of video, music and technology – became must-see experiences. One particularly memorable show in Union City, N.J. was captured in her 1985 documentary "Home of the Brave."
Other notable works include concert album "United States Live," multimedia stage show "Songs and Stories for Moby Dick" and exhibition "The Waters Reglitterized."
In 2002, Anderson was named NASA's first artist-in-residence and developed the performance piece "The End of the Moon." In 2004, she was part of the creative team that developed the opening ceremony for the Olympic Games in Athens, Greece.
Among Anderson's awards and accolades are the 2001 Tenco Prize for Songwriting in San Remo, Italy and the 2001 Deutsche Schallplatten Prize for the album "Life on a String."
For a complete biography on Anderson, click here.
The Mitchell Artist lecture debuted in 2013 with famed choreographer and dancer Bill T. Jones. This lecture series spotlights artists emblematic of artistic collaboration and innovation.
About the Cynthia Woods Mitchell Center for the Arts
The Cynthia Woods Mitchell Center for the Arts is dedicated to groundbreaking, transformative collaborations across the performing, visual, and literary arts. Based at the University of Houston, the Mitchell Center commissions and produces new works, presents public performances and exhibitions, offers curriculum and scholarships, and hosts residencies with renowned visiting artists from throughout the world. The Mitchell Center forms an alliance among five departments at UH: the School of Art, Moores School of Music, School of Theatre & Dance, Creative Writing Program, and Blaffer Art Museum. Additional information about the Mitchell Artist Lecture and other events can be found on the Cynthia Woods Mitchell Center for the Arts website at: mitchellcenterforarts.org.
###
---