The start of football season poses several important questions. Who's hosting the watch party? What time is kickoff? And most importantly, what kind of snacks will be served on game day? Whether you're tailgating or partying at home, food adds to the fun, and planning for it doesn't have to break the bank.
Chef Anthony Chevalier, lecturer at the University of Houston Conrad N. Hilton College of Hotel and Restaurant Management, teaches Creole Cuisine. One lesson each year is called the Touchdown Twenty: How to Throw a Football Party for Your Friends for About $20 (with many items you already have in your kitchen).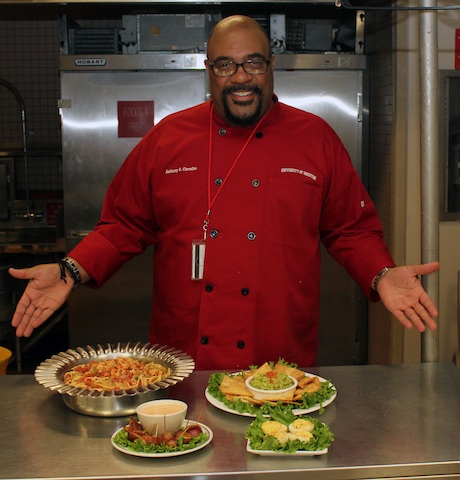 "Football is exciting, and the food you serve should enhance that," Chevalier said. "My promise is that you can take that $20 and get plenty of food for a party of six, and make sure they get full! And you don't have to do a lot of shopping either."
First Down: Deviled Eggs.  This traditional party snack is enhanced with a bit of the hot stuff.  Ingredients: Eggs, mayo, mustard, spices.  Cost: $2.25.  Servings: 6.
"These are just like Lays potato chips – you can't eat just one," Chevalier said.
Second Down: Guacamole and chips.  What makes this extra special is the homemade tortilla chips that take a few minutes to make, but take your game to another level.  Ingredients: Avocado, tomato, onion, minced garlic, corn tortillas.  Cost: $2.50. Servings 6.
"This is a great basic snack, and if you want to give it a little kick, some diced jalapeno peppers will do the trick," he said.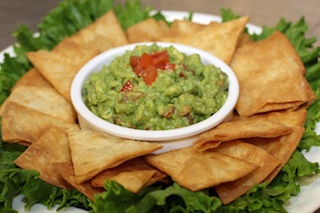 Third Down:  Pigskin Potatoes.  These bacon-wrapped, quartered red potatoes are flash-fried, wrapped with pre-cooked bacon, then baked, sprinkled with Creole seasoning and served with a spicy dip.  Ingredients: Red potatoes, bacon, spices, mayo, ketchup.  Cost: $3.25.   Servings: 6.
"The pigskin potatoes without the dipping sauce are like a touchdown without the extra point – they're good on their own, but that extra point makes it complete."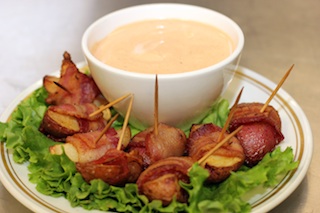 Touchdown: Crawfish Pasta. Ingredients: Crawfish tails, spaghetti, onion, bell pepper, diced tomatoes, cream of mushroom soup, creole seasoning and spices. Cost: $12. Servings: 6+
"This really makes more than enough for a complete meal on its own. You combine it with the rest of the spread, and you could feed the Texans' offensive line after a victory!
"If you've got some extra change, you can even whip up a peach cobbler for dessert for about $5. Cooking doesn't have to cost a lot  –  you can throw a feast of a party for your friends without having a penalty flag thrown your way. You've heard of fantasy football – this is fantasy food," Chevalier said.
---