Claudine Giacchetti, professor of French and director of the French Program at the University of Houston (UH), has been named by the French Ministry of Education as Chevalier dans L'Ordre des Palmes Académiques (Knight in the Order of Academic Palms) for her efforts in promoting the French language and culture in the United States.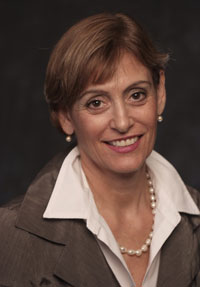 "We are thrilled to learn that our colleague Dr. Claudine Giacchetti is being recognized as a Chevalier of the L'Ordre des Palmes Académiques," said John W. Roberts, dean of the College of Liberal Arts and Social Sciences (CLASS) at UH. "This historically significant award is held by only a handful of American academics. It adds to Dr. Giacchetti's reputation as an outstanding scholar and teacher of French and francophone literature and culture." 
The Ordre des Palmes Académiques is an association in France for academic, cultural and educational figures, founded originally as a decoration by Napoléon Bonaparte to recognize devotion and accomplishment in the realm of teaching, scholarship and research. Later, membership was extended to non-French citizens to acknowledge their promotion of French language and culture or significant achievement in the field of education.
"Claudine Giacchetti is a nationally and internationally recognized scholar of French literature," said Hildegard F. Glass, chair of the Department of Modern and Classical Languages (MCL) at UH. "Serving as the director of the French Program since 2009, she has enthusiastically promoted the study of French language and culture at UH, expanding the traditional French program to include francophone studies and French for business classes and by taking a group of UH students to Angers, France every summer where Dr. Giacchetti directs our study abroad program."
Giacchetti is a scholar of 19th-century French literature and has written extensively on women writers of the Romantic period. She is a member of Agence Universitaire de la Francophonie, one of the most important higher education and research associations in her field. She has participated in several research projects funded by French universities in Paris, Clermont-Ferrand, Toulouse and Dijon. She is the author of three books and 30 scholarly articles.
She received her doctorate in French studies from Rice University and a master's degree in English from the University of Paris (VIII). She has been recognized by CLASS with the Ross M. Lence Teaching Excellence Award in 2012.  Her current research interests include 19th century children's literature, as well as women's autobiographies and memoires in post revolutionary France. She has been active in Guy de Maupassant scholarship since the publication of her book on the writer's novels. She is currently working on a modern edition of the memoirs of the Comtesse Dash, a French novelist of the mid-19th century. She also received grants to publish the oral narratives she collected in 2009-2010 entitled, "Hidden Lives: Four Jewish Girls in Occupied France (1940-1944).
About the University of Houston
The University of Houston is a Carnegie-designated Tier One public research university recognized by The Princeton Review as one of the nation's best colleges for undergraduate education. UH serves the globally competitive Houston and Gulf Coast Region by providing world-class faculty, experiential learning and strategic industry partnerships. Located in the nation's fourth-largest city, UH serves more than 39,500 students in the most ethnically and culturally diverse region in the country. For more information about UH, visit the university's newsroom at http://www.uh.edu/news-events/.
---