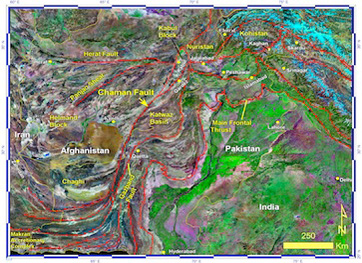 A $451,000 grant from the United States Agency for International Development to study the Chaman Fault in Western Pakistan will help earthquake prediction and mitigation in this heavily populated region. A UH geoscientist will lead the project in the U.S.

The National Academy of Sciences implements the U.S. side of the program and will be led by Shuhab Khan, associate professor of geology at UH. Part of the Pakistan-U.S. Science and Technology Cooperation Program, the research will increase the strength and breadth of cooperation and linkages between Pakistani scientists and institutions with counterparts in the U.S. Khan's counterpart in Pakistan is Abdul Salam Khan of the University of Balochistan.

"The Chaman Fault is a large, active fault around 1,000 kilometers, or 620 miles, long," Khan said. "It crosses back and forth between Afghanistan and Pakistan, ultimately merging with some other faults and going to the Arabian Sea."

The study area is located close to megacities in both countries.

"Seismic activity across this region has caused hundreds of thousands of deaths and catastrophic economic losses," Khan said. "However, the Chaman Fault is one of the least studied fault systems. Through this research, we will determine how fast the fault is moving and which part is more active."

The Chaman Fault is the largest, strike-slip fault system in Central Asia. It is a little more than half the size of the San Andreas Fault in California.

"In strike-slip faults, the Earth's crust moves laterally. Earthquakes along these types of faults are shallow and more damaging," he said. "Rivers can also be displaced and change course with activity related to this type of fault."

The study team will gather data using remote sensing satellite technology and field measurements made at various sites along the fault.

"In addition to current movement, the techniques will allow us to go back tens of thousands of years to determine which areas have moved and how much," Khan said.

Field measurement techniques include sampling and analysis of rocks and sand along the fault system.

"Through cosmogenic age dating, we can determine how much time rocks along the fault have been exposed to sunlight by measuring for cosmic rays and radiation," Khan said. "Those measurements help us determine how much time it took the rocks to move in the area."

Sand buried below the surface will be sampled without being exposed to light. In the lab, measurements using optically stimulated luminescence will reveal how long the sand has been buried.

"Three students from the University of Balochistan will come to the U.S. to learn the field techniques," Khan said. "We will take them to the San Andreas Fault for training because the locations and faults are similar. They will return to Pakistan and gather samples from designated areas along the fault."

The samples will be analyzed at the University of Cincinnati lab of geology professor Lewis Owen, co-investigator on the grant. The research team also includes UH geosciences students. Two undergraduate students will help process the rock samples, and a Ph.D. student will work with the remote sensing data.

"Through the data collection, we will learn more about the movement along this fault in the recent past," Khan said. "That information will help with earthquake prediction and mitigation."
###
Editor's note: Story courtesy of Kathy Major, College of Natural Sciences and Mathematics

About the University of Houston
The University of Houston is a Carnegie-designated Tier One public research university recognized by The Princeton Review as one of the nation's best colleges for undergraduate education. UH serves the globally competitive Houston and Gulf Coast Region by providing world-class faculty, experiential learning and strategic industry partnerships. Located in the nation's fourth-largest city, UH serves more than 40,700 students in the most ethnically and culturally diverse region in the country. For more information about UH, visit the university's newsroom.

About the College of Natural Sciences and Mathematics
The UH College of Natural Sciences and Mathematics, with 193 ranked faculty and nearly 6,000 students, offers bachelor's, master's and doctoral degrees in the natural sciences, computational sciences and mathematics. Faculty members in the departments of biology and biochemistry, chemistry, computer science, earth and atmospheric sciences, mathematics and physics conduct internationally recognized research in collaboration with industry, Texas Medical Center institutions, NASA and others worldwide.

To receive UH science news via email, sign up for UH-SciNews.

For additional news alerts about UH, follow us on Facebook and Twitter.
---