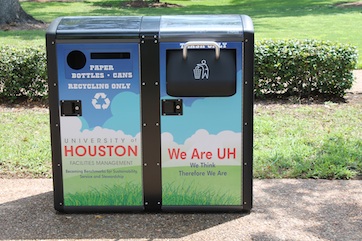 Each day, a sea of red shirts, backpacks and baseball caps dominates the University of Houston's campus landscape. Both new and returning students wear Cougar colors to show pride in the University. This fall, they are also finding it easier to show their "green" streaks.
As of this fall, UH has 80 dual recycling receptacles and solar-powered trash compactors (manufactured by Big Belly Solar). The receptacles collect plastic, paper and aluminum. The conjoined trash compactors are powered by the sun and automatically crush the existing waste materials to make room for more refuse. A sensor will signal UH's Recycling and Solid Waste department when a unit is full and ready to be emptied. This system has several benefits, said Michael Burriello, assistant director of facilities management.
"On average, one unit will collect as much trash as five non-compacting trash cans," he said. "It also is helpful by alerting Recycling and Solid Waste staff members when a unit needs to be emptied as opposed to visually checking every unit daily."
Older recycling receptacles – brown canisters – are still on campus, but Burriello said that they will ultimately be phased out. The intent is that five older units would be replaced for every new one, he added.
"These new units will reduce UH's carbon footprint," Burriello said. "By not sending our trucks to collect trash from each unit every day, we save on gas and create less emissions. And by having more recycling receptacles, the campus community can do its part in helping the environment."
Faculty, staff and students have other 'green' tools at their disposal. Starting this fall, they can reduce their use of numerous plastic water bottles by using new filtered water bottle fillers. Burriello said that 21 of these filling stations were installed in classroom buildings, and 16 more soon will be added to campus. Users can more conveniently refill water bottles or cups with filtered drinking water rather than purchasing bottles over and over again, and those ending up in the trash.
"We have so far received 32,136 refills at these new filling stations," Burriello said. "That has kept more than 32,000 bottles out of the campus waste stream."
The addition of the recyclers/solar compactors and water fillers complement UH's many other sustainability initiatives. These include the UH Central Plant's enhanced chillers, cooling towers and boilers that help deliver more efficient cooling and heating to University buildings. The Central Plant's offices are partially powered by a solar array, which was donated by Green Mountain Energy. Additional sustainability efforts include a community garden, trayless dining halls (such as the Silver Leadership in Energy and Environmental Design certified Cougar Woods), community partnerships, student engagement activities (including the annual RecycleMania competition) and the Adopt-A-Spot programs.
UH recently was included in Princeton Review's Guide to 322 Green Colleges: 2013 Edition. The University has made this list of greenest colleges every year since 2010.
---