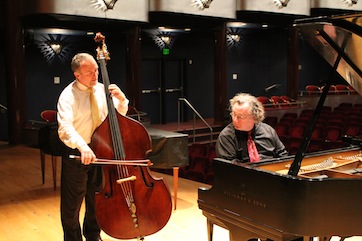 As the story goes, the widow of famed musician Serge Koussevitzky witnessed his ghost on the stage of New York's Town Hall during a performance by bass virtuoso Gary Karr. Following Karr's performance, Olga Koussevitzky passed on her late husband's beloved – and very unique – double bass to Karr. Thanks to Karr's generosity, audiences and musicians alike can celebrate its musical legacy.
The instrument – now known as the Karr-Koussevitzky double bass – was constructed during the early 19th century and is appreciated for its unique tone. Music aficionados rarely have an opportunity to hear this one-of-a-kind instrument in concert, but Houstonians will have their chance during an Oct. 6 University of Houston recital paying tribute to its namesakes.
UH Moores School of Music (MSM) affiliate artist Dennis Whittaker will perform using the Karr-Koussevitzsky double bass alongside fellow MSM professor, pianist Timothy Hester. The performance titled "The Enduring Legacies of Serge Koussevitzky and Gary Karr" begins at 2:30 p.m. in Dudley Recital Hall. Tickets are $12 and $7 for UH students and seniors.
During the event, Whittaker will offer insight on both musicians and discuss the double bass that he will play. Works to be performed include a mix of Koussevitzky's compositions and pieces frequently performed by Karr. A sample of the recital's works is as follows:
"Andante," "Valse Miniature," "Chanson Triste" and "Humoresque" by Koussevitzsky
"Scherzo" by Daniel Van Goens
"A Nightingale Sang in Barkley Square" by Manning Sherwin (arranged by Don Thompson)
"Cavatina" (Theme from "The Deer Hunter") by Stanley Myers
"Sonata in A minor" by Georg Philipp Telemann
"Artemis in the Oak Grove" by Evan Premo
"Failing, A Very Difficult Piece for Solo String Bass" by Tom Johnson
"The Koussevitzky-Karr bass presents a very distinct and cultured voice," Whittaker said. "It's an instrument that is meant for projection and presence. It's meant to be played with beauty and color rather than brute orchestral force."
Initially, experts thought the bass was built in the 1600s by the renowned Amati family in Italy. Research and thorough inspection revealed that the instrument is of French origin and was built around 1800.
Whittaker's temporary acquisition of the bass was made possible through the generosity of Karr, founder of the International Society of Bassists (ISB). Karr donated the bass to ISB in 2005. Since then, the society has loaned it to bassists around the world.
The Russian-born Koussevitzky (1874 – 1951) was renowned as a conductor, composer and talented double bassist.  From 1924 -1949, he served as music director for the Boston Symphony Orchestra. Koussevitzky helped grow the immensely popular Tanglewood music venue in Massachusetts and launched its educational programming. The venue's amphitheater is named the Koussevitzky Music Shed in honor of the late musician. The Koussevitzky Music Foundations award grants to composers to support the creation of new works.
Many classical music fans regard Karr as the world's foremost solo bassist. In 1962, he made his stage debut opposite Leonard Bernstein and the New York Philharmonic. As a soloist, he has performed with the Chicago Symphony, London Philharmonic Orchestra, Hong Kong Philharmonic, Montreal Symphony and other noted orchestras. In 1967, he founded the International Society of Bassists and was the recipient of its Distinguished Teacher Award. To learn more about Karr's career, visit his website.  
At UH, Whittaker teaches double bass and is the string coordinator. He also coordinates UH's Moores School of Music's "Tuesday Recital" series. In addition to his duties at UH, Whittaker serves as principal double bassist for the Houston Grand Opera. He also contributes his talents to symphonic, chamber, jazz and studio performances and has appeared on several recordings.
Hester is UH's Piano Director of Keyboard Collaborative Arts and an associate professor of music. In 2003, he was named Outstanding Faculty Member of the Year by the Moores Society. Outside of UH, Hester is a faculty member with the Houston Grand Opera Studio. He has performed around the world and has contributed to numerous recordings. He was groomed by famed pianist Adele Marcus at The Julliard School.
---