Houston-area residents are encouraged to visit the University of Houston (UH) Saturday, Oct. 26, to safely dispose of their unused, expired and unwanted prescription and over-the-counter (OTC) medications. UH is serving as a collection site for National Drug Take-Back Day from 10 a.m. to 2 p.m. at the UH Campus Recreation & Wellness Center.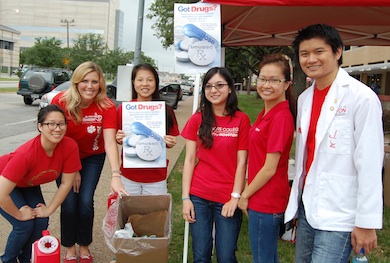 In partnership with the U.S. Drug Enforcement Administration (DEA) and the UH College of Pharmacy's American Pharmacists Association-Academy of Student Pharmacists chapter, this is the fifth time the college has assisted local, state and national law enforcement authorities in the effort. More than 2.8 million pounds – nearly 1.5 tons – of prescription medications have been removed from circulation since the national initiative was launched in 2010.

Motorists can simply drive up to the collection area at Cullen Road and University Drive and hand off their unwanted medications to volunteers for safe disposal.

For more information, visit the DEA National Take-Back Day website at http://www.deadiversion.usdoj.gov/drug_disposal/takeback/index.html.


WHO:
UH College of Pharmacy students & law enforcement personnel

WHAT:
National Prescription Drug Take-Back Day
     
WHEN:
10 a.m. to 2 p.m., Saturday, Oct. 26

WHERE:
University of Houston
Campus Recreation & Wellness Center
Intersection of Calhoun Road and University Drive
Map: http://uh.edu/maps/buildings/?short_name=CRWC
###
To receive UH science news via email, sign up for UH-SciNews.

For more information about UH, visit the university's newsroom.

For additional news alerts about UH, follow us on Facebook and Twitter.


---