The nature of a "boot camp" is intense.  Whether applied to losing weight or gaining stamina, the activity conveys a level of urgency that forces participants out of their comfort zones and results in a positive change. 
The University of Houston Hobby Center for Public Policy (HCPP) is planning a Civic Engagement Boot Camp, an ongoing series of workshops for those individuals who want to learn or enhance their skills to lead effectively in any kind of environment.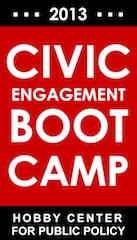 The first workshop is planned from 10 a.m. to 4 p.m., Friday, Oct. 18 at the University of Houston McElhinney Hall.  Admission is free, but limited to 20 persons.  Pre-register by contacting Isaiah Warner at
inwarner@central.uh.edu
. Write "CEBC" in the subject line and include your name and phone number in your email message.  
"The workshop exercises intentionally pull you out of your comfort zone," said Renee Cross, associate director of the HCPP. "This isn't for the faint of heart.  You have to want to think critically, engage actively and commit to making a difference."
Individual workshops will discuss government structures and processes, developing representation, building collaborations, articulating a position and using new and traditional media.  Each event will feature speakers with demonstrated expertise and success in public, private and non-profit sectors. 
Former Houston City Council Member and community activist Ada Edwards will lead the inaugural workshop, focusing on self-awareness, inter-personal skills and leadership. 
WHAT: UH Hobby Center for Public Policy Civic Engagement Boot Camp
WHEN: 10 a.m. to 4 p.m., Friday, Oct. 18
WHERE: UH McElhinney Hall, room 317
For directions and parking information visit
http://www.uh.edu/maps/buildings/?short_name=M
---