Writing scholarly works for academic journals, book chapters or grants is a long process made more challenging by the many demands placed on faculty.
An effort from faculty at the University of Houston Conrad N. Hilton College of Hotel and Restaurant Management (HRM) has had a two-fold effect of increasing writing and publishing productivity, while creating a new writing culture among faculty.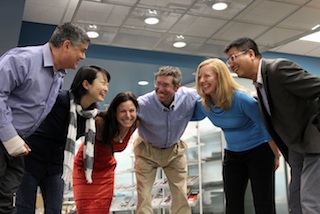 "We help each other set short-term goals, break down larger goals and hold each other accountable. No excuses," said HRM Professor Je'anna Abbott,  who with four other faculty members created the group "Agraphia," which means "fear of writing." 
"We have always been known for teaching, but, traditionally, hospitality academics have not been known as researchers," said Jay Neal, assistant professor of food safety. "This effort helped us to focus and to treat our writing time just as we would our class time."
The "Agraphia" group meets every two weeks. Meetings allow faculty members to present challenges, drafts and short-term goals, such as writing an introduction to a manuscript, designing a survey or outlining a proposal for a grant.
Participating in "Agraphia" requires that each member pledge to selfishly guard his or her time to write or research by closing the office doors, turning off email, phones and social media. At each meeting, members will be asked the status of their goals.
"It is often hard to find a balance between teaching and research when it comes to time management. I'm not one who can jump in, sit down, write for an hour, then get back up and go to teach a class," said Assistant Professor Mary Dawson. "'Agraphia' helped me schedule time to do my research and set smaller, focused deadlines that I could realistically obtain within two weeks."  
In its first year, the faculty have:
•    Had nine papers accepted (six more have been submitted and are in the review process)
•    Had five grants funded (submitted 13 others)
•    Completed two book chapters
•    Delivered five conference papers (awarded three Best Conference Paper)
"I've also successfully implemented some ideas from our group into my work with my graduate students' theses," said Jason Draper, assistant professor . "It's made it easier for them by setting weekly goals." 
Now in tune with each other's research,  "Agraphia" members have created strategies and lessons that complement each other's classes.
Additionally, the effort has spun-off a second writing group in the college, and the strong support system they've made with each other has created a stronger culture of collaboration. 
"This group was a simple idea that turned into something successful, and it's turned us into more of a family," Abbott said. "I thoroughly enjoy and can't wait to get to work to see my colleagues who are now my extended family.  We play really well together and I think it's because of this group."
---