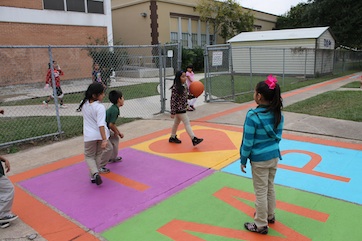 Children who frequent Houston's DeZavala Park (7520 Ave. H in Houston's Magnolia Park community) are noticing new amenities where they can exercise their bodies and minds. Credit the University of Houston Community Design Research Center (CDRC) for DeZavala's new Play Zone (or Zona de Juego).
The Play Zone effectively makes use of the pavement that separates DeZavala Elementary School from the park. CDRC staff members recently installed the zone, which includes a painted time line (detailing the rich history of the nearby neighborhood) and educational games. These include classic games such as foursquare, hopscotch, connect the dots and tic-tac-toe. The painted time line and games extend 600 feet (from 75th Street to 76th Street).  
DeZavala Park is managed by the Houston Parks and Recreation Department. It is used by members of the East End community and by students from neighboring DeZavala Elementary School during recess.
The Play Zone project was created as part of the CDRC's third Collaborative Community Design Initiative (CCDI). The biennial project explores Houston neighborhoods and partners faculty, students and CDRC staff with community members. Together, they develop strategies for areas in need of revitalization. This year's CCDI partners include the Greater Fifth Ward, Denver Harbor, Magnolia Park and Sunnyside.
The 2013 CCDI is a partnership with the Community Transformation Initiative, a program of the city's Department and Health and Human Services supporting healthy and sustainable communities.  The DeZavala Play Zone was funded through a grant from the Community Transformation Initiative.
"The focus of this project is to encourage children to be active and to add some additional educational components to a park that is the center of the community," said Susan Rogers, UH professor of architecture and director of the CDRC.
The CDRC is based within UH's Gerald D. Hines College of Architecture. The college offers bachelor's and master's degrees in a variety of disciplines. These include industrial design, architecture, space architecture and interior architecture. Faculty members include esteemed professionals in the architectural community, as well as award-winning academic veterans. Facilities include studio spaces, the new Materials Research Collaborative, computer labs and the Burdette Keeland Jr. Design Exploration Center. To learn more about the college, visit http://www.arch.uh.edu/.
---