"International education is the responsibility and promise of all nations. It calls for free exchange and full collaboration. The knowledge of our citizens is one treasure which grows only when it is shared."   --Lyndon B. Johnson, message to Congress in February, 1966.
Walk across the campus and you'll hear languages from dozens of countries.  The University of Houston is one of the most ethnically diverse urban research universities in the country, and while diversity is celebrated every day, UH joins a global celebration of diversity this month.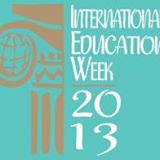 International Education Week is Nov. 11-15 and celebrates the benefits of international education and exchange worldwide. A joint effort of the U.S. Departments of State and Education, the effort promotes programs that prepare Americans for a global environment and attract future leaders from abroad to study, learn and exchange experiences in the U.S.

Activities begin at noon, Monday, Nov. 11 at the University Center Satellite, Patio Hill, with a performance by the UH Language and Culture Center Singers.  Other events that week include an international marketplace on Butler Plaza, featuring the food and crafts from 18 student organizations, a "History of the Sari" presentation, a photo contest sponsored by the Office of International Studies and Programs, and a week-long menu of international food at the Fresh Food Company in Moody Towers. For a complete list of activities, visit http://www.issso.uh.edu/events/IEW2013.html. 

"Students at UH hail from more 121 different countries," said Anita Gaines, director of the International Student and Scholar Services Office. "We have the unique privilege of experiencing cultures from around the world through our international education and exchange programs."

Follow activities all week on Twitter using #IEW2013_UH.

WHAT:  International Education Week 2013 at UH

WHEN: Nov. 11-15

WHERE:  At areas around campus
For a complete list of activities visit http://www.issso.uh.edu/events/IEW2013.html.


---