Eva Longoria, of television's "Desperate Housewives" fame, will be the keynote speaker for the University of Houston Center for Mexican American Studies' (CMAS) annual scholarship banquet.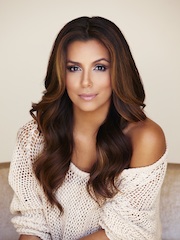 The 17th Annual Noche Cultural Banquet celebrates the many community supporters of CMAS and the students who benefit from scholarships, mentoring and networking opportunities.  The event takes place from 6 – 8 p.m. Saturday, Nov. 16, at the Hilton University of Houston. For ticket information contact Holly Laurenzana at 713-743-3139, or
hlauren@central.uh.edu
.
Longoria will have a media availability from 4:30 – 5 p.m. in the Shamrock room.  Please RSVP to
mrcannon@uh.edu
or 713-743-8152.  She will not offer one-on-one interviews. 
"It has always been the mission of the center to support students who may be the first in their families to attend college, to support young scholars as they produce important research about the Latino experience and to bring together community leaders for the benefit of both," said Tatcho Mindiola, professor and director of CMAS. "We are excited to have Ms. Longoria—herself a young scholar—as a central part of our celebration."
The Corpus Christi-born actress received a master's degree in Chicano Studies from California State University, Northridge. Longoria has been outspoken on issues of immigration and the banning of Mexican American Studies in some states. The Eva Longoria Foundation supports programs to help Latinas excel in school and attend college. Additionally, the foundation supports Latina entrepreneurs with career training, mentorship, capital and opportunity.
For more information on the UH Center for Mexican American Studies Noche Cultural Banquet visit
http://www.uh.edu/class/cmas/news/2013/noche-cultural-2013/index
For more information on the Eva Longoria Foundation, visit
http://www.evalongoriafoundation.org/
WHAT: UH Center for Mexican American Studies' 17th Annual Noche Cultural Banquet
    Featuring keynote speaker Actress Eva Longoria
WHEN: 6 – 8 p.m., Saturday, Nov. 16
WHERE: Hilton University of Houston
                For directions and parking information visit
http://www3.hilton.com/en/hotels/texas/hilton-university-of-houston-HOUUHHF/maps-directions/index.html
---